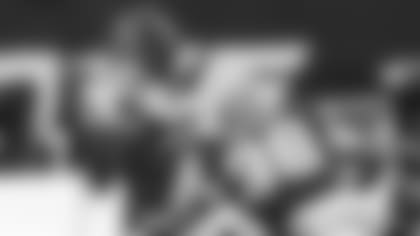 Wide receiver Robby Anderson perfectly summed up the Jets' 24-22 nail-biting win over the Cowboys and QB Sam Darnold's return.
"It felt great," Anderson said. "It was fun, a lot of fun."
The fourth-year wideout nearly doubled his season total entering Week 6 (131 yards) as he registered a team-high 125 yards and one touchdown on five receptions. Immediately following a fourth-down stand on the Jets' 7-yard line, the Green & White dialed up Anderson down the visiting sideline and the speedster went 92 yards for the score, extending the team's lead to 14-3.
"It was a double move, sort of," he said. "The actual route to set it up, we ran it a few times and we knew how they were going to play it, so we just made it happen with a great throw.
"I think that was huge. I think it was a big spark to us. Hopefully, it was a turning point to our season, but I think that play just felt like it gave everybody that energy and I think we gained a lot of momentum off of that."
Anderson's first score of the season was the second-longest pass play in franchise history to a 96-yard TD in 1985 to Wesley Walker, who was in attendance for being honored as a member of the Jets' all-time team. It was also the longest pass play at home in the team's record books.
"Oh, it was awesome," Darnold said of a TD pass. "The way the safety bit down on the run, I just knew I had to put it out there and Robby is one of the best, if not the best, at tracking the ball in the air in the NFL. I knew I just had to put it out there in his vicinity and he would go out and catch it."
While Anderson and Darnold seemed to pick up where they left off at the end of last season, the second-year signal-caller did the same with Jamison Crowder, who registered 14 catches in Week 1 with Darnold under center. Against the Cowboys, Crowder had six catches for 98 yards, including a 30-yard pitch-and-catch that came moments after Dallas cut the Jets' lead to 21-16 with 4:51 remaining in regulation. Six plays later, Sam Ficken gave the Jets a 24-16 lead on a 38-yard field goal.
"I was happy he was playing, honestly," Crowder said of Darnold. "He had a really solid week of practice. I feel like we had a really good week of practice as an offensive unit. I didn't expect him to be rusty at all."
Darnold completed passes to seven different players Sunday, including WR Demaryius Thomas, who tallied 62 yards on four receptions in his first game with the USC product starting. Darnold actually connected with Thomas on the first play from scrimmage for 17 yards.
"Honestly, I think it can be pretty good," Thomas said of the offense, which totaled a season-high 382 yards against the Cowboys. "It's just that everybody has to be accountable, everybody has to do their job. Everybody has to do the small things and the small details. I don't like to talk about the past, but it was one of the offenses I was in that holds the best record in the game. We had Peyton manning, but Sam is a young, good quarterback that can scramble, make every throw and he's smart. The sky is the limit, it's just about everybody doing their job every play."