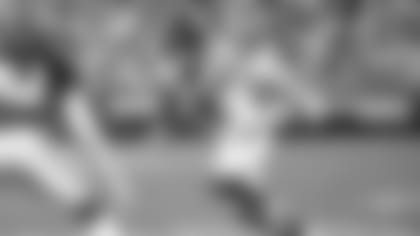 This past April, wide receiver Robby Anderson made it clear that he was determined to prove this season that he was more than just a deep threat— a label many had given him throughout his first three years in the league. The first major step in that direction for the fourth-year vet was to expand his route-running abilities, and he's well on his way.
"He's come a long way. A guy like Robby is known throughout the NFL as a speed guy, so in this offense he will not be known as just a speed guy," said WRs coach Shawn Jefferson. "He's going to run all types of routes: short, intermediate, and deep routes. He's going to run the whole gamut. In this offense, we don't put stigmas on guys like he's just a deep guy. He'll run the whole gamut here and he's been doing a good job at it."
Thursday night's preseason matchup against the Falcons showcased Anderson's new-and-improved skill set. Finishing with three receptions for 32 yards in the Jets' 22-10 victory over Atlanta, Anderson made multiple contested catches and nearly landed the Green and White in the end zone after a 5-yard reception put the Jets at the 1. He took a shot on that third down but that didn't prevent Anderson from fighting to within inches of the end zone. Earlier on the same possession, Anderson kept his eyes upfield until the last minute before turning around and hauling in a 21-yard back-shoulder toss from Darnold.
"I see the growth in myself as a player day in and day out, just finding something new to emphasize and something new to get better at," Anderson said. "I think consistency and running my routes, trying to make them all look the same so they can't pick up on things, understanding the progression of the plays and where I need to be at."
"He really has challenged himself to do things that he has not done before," added head coach Adam Gase of Anderson following Tuesday's practice at training camp. "I saw him get a couple catches and run some routes that I've never really seen him finish the play on. I could tell that he was excited that he made some plays on some different routes. When you have a guy and you see him start having a little success like that, that hunger grows and then he's like, 'More, I want more.'"
The 6'3", 190-pound speedster reeled in 50 receptions for 752 yards and six touchdowns last season, with his longest catch coming in at a career-high 76 yards in a Week 5 triumph over the Broncos. But following the unveiling of the Jets' new uniforms this past offseason, Anderson was vocal about starting his journey to becoming a more multipurpose receiver, and he wanted it to begin with Gase.
"He's really just trying to keep the door wide open on everything we're doing. He has not come to me and said, 'I really don't like doing this,' or 'I don't want to do this.' He wants to do the whole thing and we all can appreciate that as coaches," said Gase. "He wants to keep getting better and we're going to keep trying to help him."