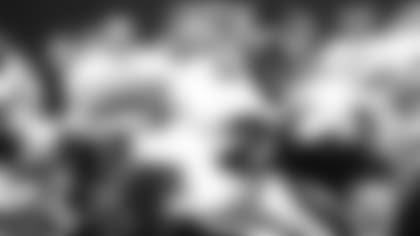 Reggie Cobb, the former University of Tennessee star running back who played seven seasons for four NFL teams, including his last team, the Jets, in 1996, died Saturday of what the Sacramento Bee reported was a suspected heart attack. He was 50.
Cobb began his pro playing career as the second-round selection (30th overall) of Tampa Bay in the 1990 draft. He played four seasons with the Buccaneers and enjoyed a career year in 1992 when he rushed 310 times for 1,171 yards — his only 1,000-yard season — and nine touchdowns.
He moved to Green Bay in 1994, then to Jacksonville for the Jaguars' inaugural season in 1995, and came to the Jets in the 1996 offseason. The last Jet to wear uniform No. 28 in the regular season before Curtis Martin, Cobb showed some of his running skills in the preseason with an 80-yard rushing game vs. the Giants and led the team for the summer with 184 rushing yards and 219 yards from scrimmage.
In the regular season, Cobb played 15 games (no starts) for the Green & White and was used sparingly on offense behind RB Adrian Murrell and FB Richie Anderson, rushing 25 times for 85 yards and catching four passes for 23 yards.
His lone touchdown as a Jet helped clinch the only win of the '96 season, at Arizona. Trying to end their 0-8 start, the Jets held a tenuous 24-21 lead over the Cardinals in the fourth quarter and needed a knockout blow. With 5:54 to play, Murrell sped off right tackle from the Jets 20 for 78 yards (the longest run of his nine-year NFL career) before being pulled down at the Cards' 2. Cobb came in for a 2-yard run around left end for the final TD in the Jets' 31-21 victory.
"Adrian's playing well and I wish him success. I'm not one of those guys who wishes somebody doesn't do well so I can play," said Cobb after that game, after going the two previous games without an offensive snap. "The victory's the most important part and it felt good to be a part of it."
Shortly after ending his playing career, Cobb went into scouting. He again moved around the NFL landscape, scouting for Washington, Tampa Bay and, for the past 10 seasons, with San Francisco. In 2011 he was named NFC Scout of the Year by the Fritz Pollard Alliance. Also that year, he was inducted into the Greater Knoxville (TN) Sports Hall of Fame.