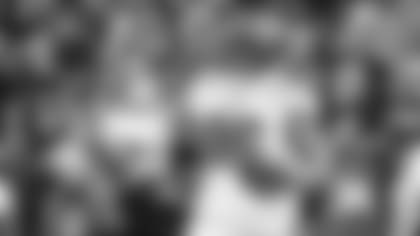 If you didn't know Quinnen Williams, you might suspect he thinks quite highly of himself. Back before the 2019 NFL Draft, when the Jets plucked him third overall out of Alabama, he said of his game, "I showed on my film I can be elite at all five positions ... And I'm a great pass rusher. I'm great with my hands and great at run stop."
And as Williams began to prepare for a return to action after missing two late September games due to an ankle injury, he said, "I can't wait to get out there and dominate."
But it's important to know that Williams is still very young (he just turned 22 in December), he's enthusiastic, and he's willing to critically assess his bad play as well as his good play. Such as when he was asked by newyorkjets.com's Olivia Landis, after his just-concluded Jets rookie season, about his goals for the new year.
"My goals are to do way better than I did my rookie season," he said with a laugh. "I see this offseason as a learning experience for all the amount of things I did wrong and the amount of things I learned from, and to come back next season and not do the same things I did my rookie year wrong again."
A number of Jets fans and reporters might agree with "Q's" analysis. They wanted to see more of an eruption from the No. 3 pick and expressed impatience at his rookie campaign as captured in his stat line of 2.5 sacks, 9 QB hits, 4.5 tackles for loss and 31 tackles.
But it would be a mistake to underestimate his 511 plays' worth of contribution to the line that was in the forefront of the Jets' second-ranked NFL run defense in terms of opponents' rush yards/game and yards/carry.
Further, Williams' coaches were good with the progress they saw from the 6'3", 303-pounder.
"He's doing his job," head coach Adam Gase said in November. "He's making sure he's handling his gap, he's being physical. He's trying to either stalemate or get movement, get pushback, getting other guys free in pass-rush games. We would all love 10 sacks and all these TFLs, but sometimes it doesn't work out like that."
A month later, defensive coordinator Gregg Williams had a similar take:
"I've always said in year two and year three, you see the biggest growth in the league. When they come in here, it takes a while that first year to adjust to the speed of the game and the power at this level. He's already started that adjustment and I'm seeing that, we're all seeing that. I think you're going to see growth spurts up until the fourth, fifth, sixth year with him. He's still growing as a young player."
Gregg Williams also liked his rookie's response to the ankle injury, taking two weeks to return rather than "the full six to eight weeks" because "it was very important for Quinnen to show everybody how tough he was." And he likes Q's intelligence in asking questions and playing multiple positions.
Quinnen Williams. is no stranger to persuasive coaches, having played under Nick Saban at 'Bama, so he's enjoyed his time under the Jets' DC.
"Coach Williams was the voice in my head," Quinnen said. "He knows everything, he's seen everything. He's coached a lot of great players, Hall of Fame players. Having him hold you accountable to the max, it was good to be coached like that."
Quinnen enjoyed the bond he and his new group of D-linemen shared — "We're like a family, man. These guys were like my big brothers — and he's looking forward to hitting Year Two running.
"I was most proud in my rookie season of all the stuff I learned, and ever since the draft, building on what I began," he said. "So that's what I'm doing now, looking toward this offseason and next season and building on the things I've learned."