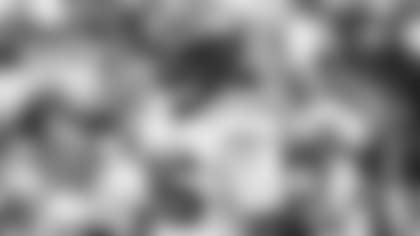 As the Jets' 2022 season came to an end this past week, Pro Bowl DL Quinnen Williams tried to summarize his best season yet with the Green and White.
"I think it was a cool year," Williams said. "Just full of excitement, fun, and getting to where I want to be, confident, where I want to be in my career in general and taking the next steps to become the player I want to be."
Williams almost doubled his NFL career best in sacks this season with 12, tied his career best with 55 tackles, and added 2 forced fumbles, had 4 passes defensed, and his first blocked kick.
"With him having that whole offseason to really train and lock in on playing, you were able to see him come in healthy, strong, powerful, explosive, and then God-given talent just takes over and I think you're able to see that," DT Sheldon Rankins said of Williams. "I told him about a week into training camp, I was like, 'Whatever the point was you're trying to prove, you've proved it. Just make sure when it's time to do this, and it counts, you can do this.' And, you know he's held up his end of the bargain on that one. It's been special to watch."
Williams, who has one year remaining on his rookie contract, would like to sign a long-term extension with the team that drafted him No. 3 overall in 2019.
"We all saw the year that Quinnen had," GM Joe Douglas said. "Quinnen, you can't say enough good things about, not only the player, what he brings in terms of playing the run, rushing the passer, the type of teammate and caliber person he is. Ultimately, Quinnen is a big part of our success this year. We're going to get together as a group, we're going to go over our plan. I feel like we have a great football admin team in Dave Socie, Nick Sabella. We're going to get together and come up with a very good plan and move forward. We are definitely going to do what's in the best interest of the team and the organization."
Williams credited his success this season to DC Jeff Ulbrich and defensive line coach Aaron Whitecotton, but made sure to mention how much he values his teammates. Williams has been part of the Jets since 2019 and wants to continue to be part of the culture change that started since HC Robert Saleh was hired.
"Everybody knows I'm a team guy," Williams said. "Everybody knows that I believe in team and want to push the team first, but I do want to get a contract done before the offseason program.
"I've been here four years and I've been through the ups and downs. I believe in Coach Saleh and what Joe [Douglas] has going on as the leaders and what they have going on in this organization. You guys can see this defense going to a new level from going from last, last year to top five this year. I definitely want to be a part of that for years to come."
See all of the top images from the Green & White's 2022 season.