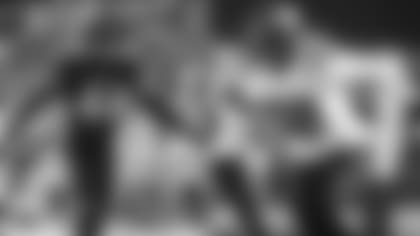 There's a lot of buzz surrounding the Jets entering training camp, and rightfully so. While the attention is mostly directed in the direction of QB Aaron Rodgers, a pair of veteran defenders are looking at a pair of young players poised for a breakout.
All-Pro DT Quinnen Williams, who signed an extension with the Green & White on Monday, is expecting a sophomore jump from DE Jermaine Johnson, who flashed in the spring.
"A guy who scratched the surface last year and now he's bigger, stronger, faster, smarter when it comes down to the scheme of different things like that," Williams said. "That young guy right there took the initiative this offseason to get way better. I know I for sure know he's going to have a breakout year this year."
Johnson played in 14 games as a rookie last season and tallied 2.5 sacks in addition to 29 tackles, 3 tackles for loss and 5 QB hits. He also blocked a punt and recorded a safety. The Florida State product will continue to be a part of the team's deep defensive-line rotation.
"I just feel day and night in terms of explosiveness," Johnson said during OTAs. "Explosiveness, technique, building my body, stuff like that. Just old school, you know. Just in the weight room all the time, eating, making sure I'm good.
"I'm just seeing crazy changes right now, it's making me very excited and I know everyone else in the building is excited because when I'm at my best, I know it's just going to help the team."
Five-time Pro Bowl LB and team captain C.J. Mosley, like Williams, stuck with his position group.
"I'm excited for what Jamien Sherwood has been bringing this year," Mosley said. "As a young linebacker, it can be a lot to go from one position to another and learn a different position. He's been at Mike, Will and Sam since he's been here, so he's one of the smartest players on our defense and on this team. He's a hard worker, one of the hardest workers in the weight room in the classroom. I really feel like he has a great chance to this camp really show what he's about. I want to make sure that I'm also doing a great job of just kind of keeping him level-headed because he can ask a lot of questions and kind of think a little too much, but he's a playmaker at the end of the day."
Sherwood was drafted in the fifth round in 2021 out of Auburn as a safety, but Robert Saleh, Jeff Ulbrich & Co. converted him to linebacker. Sherwood, who entered the league at 212 pounds and weighed as much as 237 this offseason, has predominantly played on special teams. He's taken 381 snaps on teams and 164 on defense (31 career tackles) and is jockeying for the third 'backer spot next to Mosley and Quincy Williams.
"I want to prove I can do it," Sherwood said. "When I got here, they believed in me and I showed I could do the job. But there wasn't execution every time. Now, I'm executing every chance I get, no matter where it is -- Mike, outside, inside. I just want to show that I'm the man for the job no matter what it is. I want to show my teammates that I'm here for them and let's get this thing done."
See the 2023 Jets arriving at 1 Jets Drive for the start of training camp.