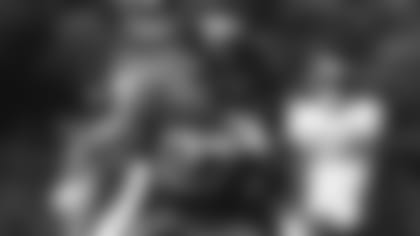 Sometimes a change of scenery leads to a career rebirth and the Jets' new CB Quincy Wilson believes that can be the case for him.
"When I got traded, it was a good day," said Wilson, who was acquired in a draft-day trade with the Colts. "It was probably one of the best days of my life. A lot of things went wrong in Indy, but I'm just happy for this new opportunity. This new situation I'm in is way better. I'm ready to show I can play."
Wilson has made a handful of plays early in camp. He picked off rookie QB James Morgan last Wednesday on a pass intended for undrafted wideout Lawrence Cager. Wilson then broke up a red-zone pass from Sam Darnold to Jamison Crowder the next day.
"It's been a smooth transition," he said. "There's a lot of man [coverage], a lot of Cover 3. It's just defense. It's the style that's different and the way they play it is the way I like to play it. I've been catching on pretty quick and been making some plays. I feel like it's working for me.
"It's more aggressive. They coach you to make plays, not to cover grass. That's how I've always been taught to go get the ball. That's what it is here."
Wilson, 6-2, 193, is familiar with a number of his teammates. He played with CBs Pierre Desir, Nate Hairston and Arthur Maulet in Indianapolis along with DL Henry Anderson and LS Thomas Hennessy. Wilson is one of six Florida Gators on the Jets' roster and he played in the same secondary as Marcus Maye and CB Brian Poole in college. He's also familiar with defensive coordinator Gregg Williams' coaching style.
"He's intense and I love it," Wilson said of Williams. "That's what you want in a ball coach – someone that's going to be on you and expects greatness out of you. He's the kind of coach I've had since college. That kind of style at Florida with coaches yelling at you. It's all familiar and I love it to be honest."
Wilson, 27, is competing for a roster spot along with Bless Austin, Maulet, Hairston and others. Trumaine Johnson and Darryl Roberts, the team's 2019 opening-day starting corners, are no longer on the team. The Jets are also dealing with injuries as Desir (hamstring) has not practiced. Wilson, as a result, has received a number of first-team reps and DBs coach Dennard Wilson has been impressed with the former second-round pick.
"When Quincy came out and he was highly touted, he was a guy we evaluated," he said. "Marcus [Maye] was there and we ended up drafting Marcus, but Quincy's biggest thing from what I saw on tape was confidence. I think he lost his confidence for whatever reason. For me as a coach and mentor, the biggest thing is to get these guys to believe in themselves and get his confidence back. Then help him with his technique and what he's supposed to do with his eyes. He's having fun. He's playing fast. He loves being around Marcus and Brian Poole because they all played together. I think the comfort zone of that and his confidence he has in me as a coach is helping him. He's been making plays."