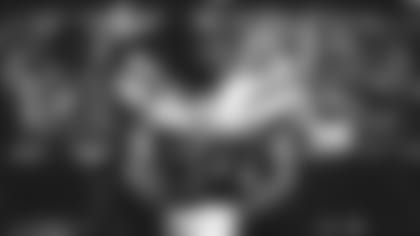 Quincy Williams has been a productive part of the Jets defense for the last two seasons. This past season, Williams finished with 106 tackles, 3 sacks, and 1 pass defensed. He attributed his continued success to having another year in the same scheme.
"My biggest improvement would probably have to be my consistency within the scheme," Williams said. "And then learning how I fit in the scheme with it being my second year in the scheme.
Since joining the Jets as a waiver claim in 2021, Williams is one of four players with 200+ tackles, 5 sacks, 5 passes defensed and 3 forced fumbles. He has posted consecutive 100-tackle season for the first time in his career and is one of 22 players with 100+ tackles in each of the last two seasons. Not only did his stats improve on the field, but he also developed as a leader.
"I felt like I progressed a lot in a positive way, and I feel like my stock went up" Williams said. "The biggest thing is with the camaraderie around the team, I felt like I kind of took off as a leader. Bringing in Kwon Alexander gave me a little bit of an edge on being a leader and also with .C.J Mosley."
Last season, Williams and Mosley became one of eight LB pairs to each record 100+ tackles. This season, they became the only duo with back-to-back 100+ tackle seasons and one of 23 linebacker pairings since 2000. As far as the jump the entire defense took from last in the league in 2021, to a top five defense in 2022, Williams knows there is more in store.
"I'm going to be honest; we basically tore the defense down and started from the foundation," Williams said. "I feel like this year we built the foundation and now coming after that we got the building blocks to be a great defense. Now we just build from there and be more consistent. The biggest thing this offseason is about finishing, you kind of see that within win loss ratio by the end of the season. I think our biggest goal we can just say the word is finishing and being consistent."
Williams, who is scheduled to be a free agent next month knows for this group to take the next step, it comes down to executing the details.
"Biggest thing really during the offseason is continue what we're doing and then focus on the small details," Williams said. "Now we got the big picture, so now it's just like small details and then like getting it right every single time."
"Just having that same mindset, just keeping the defenses' thinking process small, and then letting us use our superpowers."