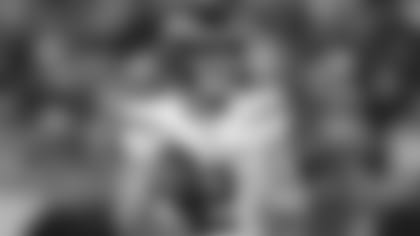 The Jets' plan for QB Zach Wilson in year three is to start from scratch. Thursday night in the 2023 Hall of Fame game, Wilson got off to a good start while going 3-for-5 for 65 yards against the Browns, highlighted by a 57-yard completion to WR Malik Taylor that came on an Aaron Rodgers play-call.
"That's the goal," Wilson said of his fresh perspective. "Putting everything behind me and learning and being appreciative of it too. And it has been a lot of fun getting back on the field with the guys. I am looking forward to the growth and all the work that we have done to get better over the offseason."
HC Robert Saleh added: "Zach did a good job. He was poised, looked comfortable in the pocket and delivered the ball on schedule. Definitely something to build on."
Starting a preseason opener for a third consecutive summer, Wilson played three series in the first quarter against the Browns and completed passes to three different receivers.
"For [Wilson] it is just about rebuilding that confidence and swag that we that we fell in love with and the draft process," Saleh said. "And I think he's getting there. As I said before, he's a rookie all over again. All the footwork is different, and all the verbiage is different. The way Aaron plays quarterback, and the way [Nathaniel] Hackett teaches quarterback is a little bit different. So, it's just there's a lot of learning and I think he's been attacking the heck out of it."
On the long pass to Taylor, Wilson delivered a strike from inside the pocket. It led to a 54-yard field goal by K Greg Zuerlein.
Hackett, the Jets offensive coordinator, called the plays, but Wilson said Rodgers – who was wearing a headset throughout the night – suggested the call.
"Great call by Aaron Rodgers," Wilson said. "Have to give him a shout-out there. We were backed up and were taking a shot down the field. It was kind of pick your matchup because those guys were just playing single man, which I think is great for preseason ball to see the guys can win and separate, and Malik has done a great job all training camp, so I wanted to go to his side. I liked the matchup with the corner as well and he did a great job winning."
Wilson kept it simple and stayed within himself in Canton and was encouraged by his brief summer debut.
"The last two years I felt have felt kind of hectic and scrambled," Wilson said. "I felt tonight I had a plan and said 'Okay, if I do what I know I'm capable of doing and I facilitate, I can lead this group.' And so that was the goal, just feeling more comfortable.
Wilson added about Rodgers' guidance: "He helps me more than he needs to, so I'm very grateful."