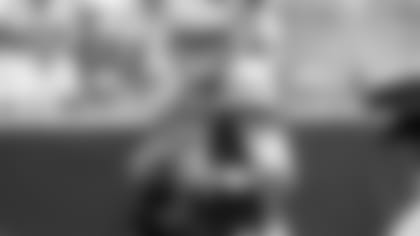 Jets QB Sam Darnold, who has missed the past three games due to a bout with mono, has been medically cleared to resume playing. The second-year signal-caller will start Sunday for the Green & White when they host the Dallas Cowboys.
"I feel good. Energy's awesome," Darnold said Monday during his appearance on "The Michael Kay Show" on ESPN New York. "Just looking to play this week, but (have to) wait for the doctor's orders tomorrow. I'm excited to hear the news, I have a feeling it's going to be good news. I thought maybe it would come last week, but had to wait it out again. Hopefully this week it's better news and I get to practice and get ready for a game on Sunday."
Darnold took first-team reps last week before being declared out of Week 5 action against the Eagles on Thursday night. He hasn't played since a season-opening 17-16 loss to the Bills when he connected on 68.3% of his passes while throwing for 175 yards and one touchdown. The 22-year-old said he didn't feel like himself in the contest and was subsequently diagnosed with mono two days later.
The Jets started Trevor Siemian in Week 2, but they lost their backup for the season when he suffered ligament damage in his ankle during the first half of a 23-3 loss to the Browns. Luke Falk, who began the year on the practice squad, came on in relief of Siemian and made his first two NFL starts against the Patriots and the Eagles.
After a winless first quarter of the season, the Jets will have their young franchiser passer to start the second quarter. Darnold worked on cardio over the past week and that included a lengthy pregame workout prior to kickoff Sunday.
"I felt good. My energy has been awesome, I've been recovering really well," Darnold said on TMKS. "I thought I was on the mend, which I am. That kind of sickness unlike any other where you feel good, but you might not actually be good and ready for contact. It's unlike anything I've ever gone through."