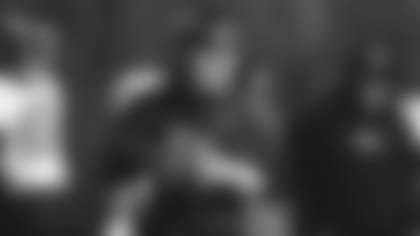 After being cleared for contact by Jets doctors on Monday, QB Mike White will return to the lineup for the first time in three weeks when the Green & White battle the Seahawks Sunday with their playoff lives on the line.
"It was a long time coming," White said. "I am just excited to finally be back out there. … The last couple of weeks, it was tough. But you try to stay engaged and enjoy being around your teammates. And that helps keep your mind off of like on game days, which are especially hard."
White missed two games after being injured against the Bills in Week 14. In that third start of the season, White was twice knocked out of the game after taking shots to the midsection that scans later revealed caused fractured ribs.
After the game, Jets doctors did not clear him and limited White to throwing in practice – and staying out of harm's way.
"I got the CT scan after Buffalo," White said. "And I was pushing for them to let me get another one and they didn't want to put me through the radiation, all that doctor stuff which I understood. We knew there was a chance for two weeks and ended up obviously being good to go so it was nice"
White told reporters the Jets training staff are working on adding extra protection that he can wear. But regardless, he is singularly focused on doing what is asked of him to help get a win at Lumen Field and keep alive the hopes of making the AFC playoffs. The Jets are currently No. 9 in the AFC and would be eliminated from playoff contention with a loss.
"I'm sure the trainers and doctors and equipment staff are playing arts and crafts and putting something together for me," White said. "…But by no means do I think I need to go in there and do anything out of the ordinary. I need to just play my game and help get the playmakers the ball and help this team."
The return of the 27-year-old QB will give the Jets a boost after the offense scored only 3 points against the Jaguars last Thursday night.
The Seahawks defense has surrendered the 16th-most passing yards, giving up an average of 217.9 yards a game, and has relinquished the ninth-most touchdown passes (23).
In White's first 2 starts this season, the Jets produced their two highest total yardage outputs of the season. The Jets had 486 yards and 22 points against the Vikings and 466 yards and 31 points versus the Bears.
To get back to that level, White said that the offense is focused on being efficient.
"Efficiency is one of the first things that was brought up and meetings on Monday," White said. "You got to stay ahead of the sticks because I don't care how talented your team is, if you're constantly in second along third and long. It's hard because this league is too good."
White, however, is not taking the Seahawks lightly. Ten times this season, the Seattle defense has come away with multiple turnovers in a game. In White's 3 starts this season he has completed 62% of his passes for 952 yards, 3 touchdowns and 2 interceptions.
"What they do well is they play well together," White said. "I think their inside backers play well with vision. And [Seattle FS Quandre] Diggs has seen a lot of balls. He is a smart player, a good player and he always seems to know when to jump stuff."
See the top photos from Wednesday's practice leading up to the Seahawks game.