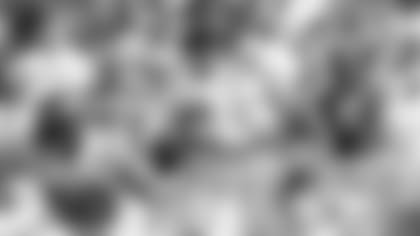 Jets QB Joe Flacco, who started the Green & White's first three games of the 2022 season, will start the team's season finale Sunday against the Dolphins Sunday in Miami.
Mike White, who returned last Sunday at Seattle after a two-game hiatus because of a rib injury, was ruled out on Friday. After being a full participant in Wednesday's walk-through, White was limited in practice on Thursday. During the Jets' 23-6 loss to the Seahawks in Week 17, White completed 12 of 21 passes in the first half but was sacked twice including the final play of the second quarter when DE Darrell Taylor got to White on a strip-sack.
"Just wasn't feeling right," HC Robert Saleh said. "The end-of-half Hail Mary, the sack that he took, really bothered him even going into the second half, which clearly affected his ability to throw the ball as you have all seen. Watching the tape, he played really well in the first half, just was a little off in the second half. He's just in a lot of pain."
Flacco, who will be looking for his 100th career regular-season win on Sunday, started Weeks 1-3 and threw for 901 yards, 5 touchdowns and 3 interceptions while completing 58.7% of his passes. Flacco led the Jets to a come-from-behind 31-30 victory in Cleveland in Week 2, throwing for 307 yards, 4 touchdowns and 0 interceptions.
"Joe is like a Ford pickup truck," Saleh said. "You may not appreciate it in September, October and November because there's nothing flashy in his game, but when December and January and the weather is just kind of crummy, he's still freaking rolling. So that's Joe and so I have a genuine appreciation for it."
Second-year QB Zach Wilson, who has started 9 games this season, will back up Flacco.
"I'm going to call it coach's decision," Saleh said. "I'm going stay firm with him and make sure that he gets to attack this offseason. I just want to get him in the offseason before we can start and attack the plan that we have in the building. Putting him out there right now, it's not going to do him any good, it's not going to do anyone any good. For him, it's all about '23."
Offensive Line Shuffle
The Jets will be down three starters on their offensive line — LT Duane Brown (shoulder), RT George Fant (knee) and RG Nate Herbig (calf) — against a Dolphins defense that is tied for 12th in the NFL with 40 sacks.
"Like Duane, I'm surprised he made it this far," Saleh said. "He could have called it quits after training camp and I am just so thankful for him. You're talking about a dude who loves football and just gave this team everything when he didn't have to. That's why he is our Selfless Warrior. I am forever grateful for him and the example he set. They don't make guys like him. It's very rare that you find a guy like him in this league. Period. And with George, he has been battling on one leg all year. He just needs to get healthy and get himself to the offseason."
The starting Jets OL Sunday could be LT Cedric Ogbuehi, LG Laken Tomlinson, C Connor McGovern, RG Dan Feeney and RT Mike Remmers.
"It's going to be an opportunity for Ogbuehi, we have Remmers," Saleh said. "Feeney has been looking for an opportunity, so there are guys who have been looking for that opportunity and I'm sure they're very excited about it."
No Wall, No Problem
The so-called rookie wall was a non-factor for a number of Jets rookies this season including WR Garrett Wilson. Last week, the No. 10 selection in April's NFL Draft became the first Jets rookie wideout in history to amass 1,000-plus receiving yards in a season. The Ohio State product shattered the franchise rookie record for receptions with 74 through 17 weeks and was named a Pro Bowl alternate.
"It is about going through things the right way throughout the week," Wilson said. "Putting your best foot forward every day and preparing for things the right way."
Wilson had his best stretch of games late in the season. In Weeks 13-14, he totaled 338 yards and 18 receptions.
"I'm always anticipating flash plays and headaches," Saleh said. "And hair-pulling moments, not that I have hair, but just chaos. That's usually what comes with rookies. … But fortunately for those two (Sauce Gardner & Wilson), they've made coaches look really good."