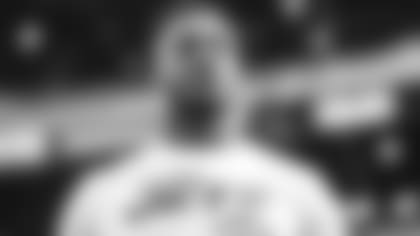 Throughout the summer, the Jets' editorial staff will take a deeper dive into the personalities, interests and lives of players off the field. This series will serve as a gateway for fans to get to know the players on the Green & White. We continue with linebacker Neville Hewitt.
How did last season help you grow as a player, especially having to play Mike LB?
NH: I never played Mike linebacker professionally. For me last year, I was kind of like being a rookie Mike because I played Will the majority of my career. During the season I was doing a lot of things right, but when you go back and look, there's a lot of things I can fix. I watch a lot of film and one thing I want to take to my games now being more aware as far as knowing what teams are going to do, and trusting my instincts. I have a pretty good idea of what teams are going to do out of formations. ... [Inside linebackers coach] Frank Bush told me last year to learn multiple positions and I never knew why he was telling me that. I was like, 'Are you sure you want me to do that? Because C.J [Mosley] is pretty much going to be our Mike.' Sure enough, I started to look at it just in case and Game 1, C.J. goes down so I'm like, 'I really have to play.' I knew the plays, I just didn't have any practice at it. So, this offseason I'm taking the time to learn multiple positions. You never know in this game who is going to go down and you never know when you're the next person up. Throughout my career, being a special teams guy and backing people up, you just never know who may go down. You may have the ability to be the next person to step up and you have to know the plays. With being at home, that's something that I really want to do — take the time to lock in on all three spots (Mike, Will and Sam linebacker)
When you're not on the football field, what do you enjoy doing?
NH: I play videogames a lot. I'm not that good, but I play them. Really, I like to look at stuff to invest in. I spend a lot of time looking at property and stuff that I can eventually invest in. My cousins and my family also hit me up, so I'm usually either counseling somebody or teaching somebody about something. That's something I like to do.
How does your heritage and culture play a role in who you are? NH: It plays a huge role. One thing is, if I get sick of something, people always tell me to take some medicine, but I'm not really big on taking medicine. My mom understands why I think everything should be natural. The thing about Jamaicans is they're going to work hard for you. They're going to work really hard and they're probably going to have like six jobs. It's a big part of my culture. One thing with Jamaicans is if you do something, you have to do it to the best of your ability because they're going to talk a lot of trash.