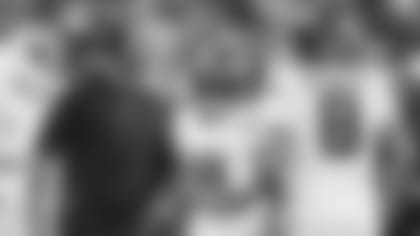 Aaron Rodgers made his debut in a Jets uniform Saturday night and the summer results were favorable as the Green & White downed the cross-town Giants, 32-24, at MetLife Stadium. The Jets finished the preseason with a 2-2 record and have high hopes ahead with Rodgers leading a talented club intent on challenging in the AFC.
In two series of action, Rodgers completed 5-of-passes 8 for 47 yards and his evening ended on a gorgeous 14-yard toss to Garrett Wilson for a score coming against Gemon Green. Against Giants backups, Rodgers and Wilson displayed their chemistry they've shown on the practice field throughout training camp. Rodgers hit Wilson on the Jets' first play from scrimmage for 10 yards (a Giants face mask penalty added 15 yards) and they hooked up three times for 30 yards in half a quarter of action. They also produced an additional 22 yards on a DPI called on Amani Oruwariye.
"They put him on the Jumbotron," said MLB C.J. Mosley referring to Rodgers. "And I know it is an 'away' game, but I think both sides were excited to see him in a uniform. As a teammate, I love to see it. He had a few throws out there and got his feet wet. And we got him a touchdown pass in the preseason, so that is exactly how we wanted it."
The Jets' first-team defense also impressed against a Giants offense that started QB Tyrod Taylor and featured backups. Nickel CB Michael Carter II set the tone with thundering tackle on former Jets TE Lawrence Cager, Sauce Gardner forced a third-down incompletion and also had a PD of Taylor on a deep ball intended for Jalin Hyatt ,and Jermaine Johnson continued his torrid summer with a sack of Taylor.
After the starters went out, CB Brandin Echols intercepted a Tommy DeVito pass and returned it 67 yards for a TD. The Jets' 14-0 lead over the Giants was the team's first double-digit first=quarter advantage since the Joe Namath-led Jets raced out in front of the G-Men 17-0 at Yale Bowl in 1969.
The Giants chopped at away at the deficit in the second half, but Tim Boyle's 4-yard TD pass to Alex Erickson and subsequent 2-point conversion pass to Jason Brownlee cemented the game in the fourth quarter. Boyle and Erickson finished the scoring with a 14-yard hook-up in the waning moments.
The Jets will have to cut the roster to 53 on Tuesday and rookie UDFA Xavier Gipson finished his preseason on a strong note, returning a punt for 20 yards and adding 7 receptions (10 targets) for 79 yards receiving. The defense tallied 5 sacks including one from Bryce Huff, who ended the preseason with 3.5 QB takedowns.
The next time Green & White will play at MetLife Stadium will be Week 1 on Monday Night Football against the Bills, who have won the AFC East each of the past three seasons.
"A coach will never feel ready," Saleh said. "We have to prepare. Buffalo is a really good football team and we'll take it one day at a time and prepare our best."
See the best photos from the 2023 preseason finale against the Giants.