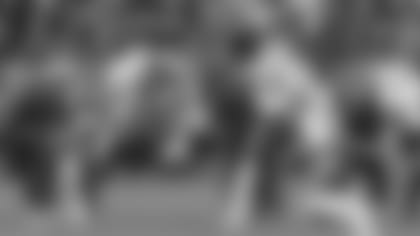 It hadn't been forever that the Jets have blocked a kick. It just felt that way. The Green & White hadn't gotten a hand on any opponent's placement or punt in 70 games dating to the 2013 season.
That drought, similar to the interception-return collar that ended on Darron Lee's runback in the opener at Detroit, came to a close late in the first quarter of tonight's game at Cleveland when recently activated Kevin Pierre-Louis broke in from his left and got a good piece of Britton Colquitt's fourth punt of the game for the Browns.
KPL's block set the Jets up at the Cleveland 28 with 2:17 left in the opening frame. In five plays, former Browns RB Isaiah Crowell jogged across the goal line from 7 yards out to put the Jets up 7-0 on the first play of the second quarter.
Pierre-Louis' rejection was the Green & White's first in 70 games. The last block by the Jets was by Antonio Allen, who blocked a Marquette King punt and recovered it for a touchdown against Oakland in Game 13 of the 2013 season. Allen also had the last road punt block for the Jets, of Atlanta punter Matt Bosher in the big Monday night win over the Falcons in Game 5 that season.
Now coordinator Brant Boyer and his units will set to work on blocking a field goal (last: Muhammad Wilkerson at Tennessee in 2012) and extra point (last: Bryan Thomas at Indianapolis in 2009).