Chad Pennington is excited to see how Bryce Petty handles his audition. The former Jets QB believes the second-year passer can help his team win now and put his name into the conversation as the Jets' potential 2017 starter.
"I think it's a perfect opportunity for him to be able to throw his name in the pot for next season's quarterback competition and conversation," Pennington said during his weekly appearance on the EA Podcast. "There are four games here — three of them which I think anybody would say are extremely winnable games for the Jets, one that would certainly be a tough task into going into New England and beating the Patriots. But it's a great opportunity for him to show that he is worthy for being mentioned for competing for the Jets' quarterback spot in 2017."
Petty, who will make his second career start Sunday against San Francisco, has completed 54.2% of his passes with 2 TDs and 3 INTs in three appearance this year.
"His goals have to be that he shows he is in command of the offense, command of his footwork and decision making, and that he is accurate. That's what I would be looking for," Pennington said. "I would be looking for just offensive logistics, how my offense runs with him in the huddle. Is he an extension of the coach? Secondly where is his decision making? Is he making good decisions, is he avoiding disasters? And third, is he hitting his targets?"
Pennington contends that accuracy is not solely reflected in completion percentage. Petty, who completed 19 of 32 passes in his first NFL start against the Rams, will have to connect on the throws that he is supposed to make.
"Completion percentage to me is more about decision making. Accuracy is truly looking at the film pass-by-pass and seeing how accurate he is," Pennington said. "Those are the questions that came out of the game for me about Bryce Petty and those are the questions I would have moving into the last four games to try to make a determination on those three questions."
After Petty lamented that his feet and mind were not in sync during Monday's contest against the Colts, Pennington talked about what that means for a quarterback.
"What I've seen when I have watched Bryce play is his footwork does not match with his mind and his footwork is not telling him okay I have stayed on this route too long. It's time to move on whether running or finding my check down," Pennington said. "He really has to develop that mental clock and that mental clock does not come from your head. It comes from your feet. Your feet are what save you and remind you that I have spent too much time in this pocket or I have spent too much time on this specific route and I need to move on to my next option."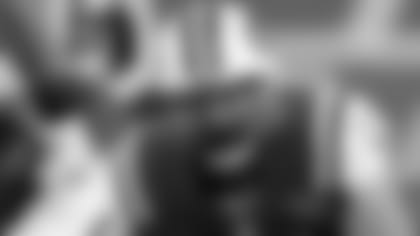 Learning the Ropes Together
With C Nick Mangold being placed on IR earlier this week, third-year player Wesley Johnson will replace him for the final quarter of the season. Johnson, who will start his fifth game of the season on Sunday, has already developed a form of chemistry with Petty. The two 25-year olds worked together throughout training camp and both started Week 10 against the Rams.
"It's good," Johnson said of their rapport. "I feel like we're growing together. He's becoming more comfortable as I'm becoming more comfortable."