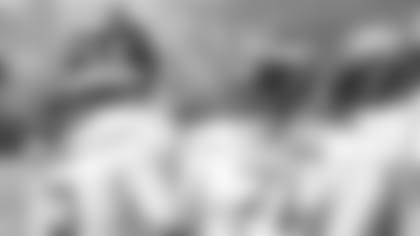 Table inside Article

| OFFENSIVE LINE (16) | Players |
| --- | --- |
| Jets Holdovers | T Mekhi Becton (Round 1, 2020), G Alijah Vera-Tucker (Round 1b, 2021), T Max Mitchell (Round 4a, 2022), G Laken Tomlinson (UFA-SF, 2022), T Duane Brown (FA, 2022), C Connor McGovern (UFA-DEN, 2020), OL Adam Pankey (FA, 2022), OL Greg Senat (W-IND, 2021), OL Chris Glaser (FA, 2022) |
| New Veterans | OL Wes Schweitzer (UFA-WAS, 2023), T Billy Turner (UFA-DEN, 2023), C Trystan Colon (FA, 2023), OL Yodny Cajuste (FA, 2023) |
| Rookie Arrivals | C Joe Tippmann (Round 2, 2023), T Carter Warren, Round 4, 2023), OL Brent Laing (UDFA, 2023) |
| Departures | T George Fant, OL Nate Herbig, OL Dan Feeney, G Laurent Duvernay-Tardif, T Cedric Ogbuehi, T Mike Remmers |
Cornerstones and Contributors
One of the biggest additions to the offensive line this season was coach and run game coordinator, Keith Carter. Carter spent the past five seasons as the Titans' offensive line coach. He led a line that helped the Titans offense finish in the top 6 in red-zone offense in each of the last four seasons, including a first-place finish in 2019.
G Alijah Vera-Tucker returns for his third season after sustaining a season-ending triceps injury at Denver in Week 7. Before the injury, AVTright guard, left tackle and right tackle after playing his rookie season at left guard.
Three days before the NFL Draft in April, Connor McGovern re-signed and returns for his fourth season with the Green & White. McGovern not only started all 17 games last season, he also was the only player on offense who took every snap. He will compete with rookie C Joe Tippmann, who the Jets drafted in the second round of the 2023 draft, to earn the starting spot.
Newcomers and Outgoers
The Jets added seven new faces to the group, including two rookies, one undrafted free agent and four free agents. Joe Tippmann (Round 2, Pick 43), Carter Warren (Round 4, Pick 120), Brent Laing (UDFA), Yodny Cajuste (New England Patriots), Trystan Colon (Baltimore Ravens), Wes Schweitzer (Washington Commanders) and Billy Turner (Denver Broncos).
Nate Herbig, who started in 11 games for the Green & White in 2022, joined the Pittsburgh Steelers in free agency. Also, Cedric Ogbuehi and Dan Feeney signed with AFC East rival Miami Dolphins.
George Fant, who also started seven games, remains a free agent.
JetSpeak
"Almost all have been in the room the whole spring," OL Coach Keith Carter said on the atmosphere of the OL room. "So, in our meetings and stuff, it's been great interaction, and it's a great group of guys. It's been a lot of fun and exciting. It's new for me, it's new for them and it's been a really good process that way."
HC Robert Saleh added: "It's a really, really good competition in that group with those tackles and I am excited to see how it pans out."