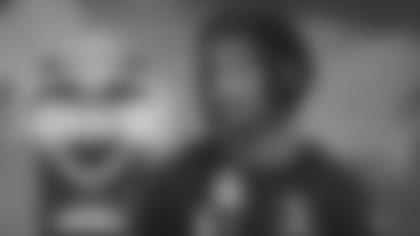 The Jets have uncertainty at receiver with free agency and the draft on the horizon. Robby Anderson and Demaryius Thomas are set to become unrestricted free agents and Quincy Enunwa is attacking rehab after a suffering a serious neck injury in last year's season opener. No matter what happens in March, the Jets could find an inviting target early on draft weekend.
"You've probably heard every GM and coach talk about this wide receiver class; it's a good one," GM Joe Douglas said Tuesday. "Just watching them go across the stage, there's a lot of talented players and we see how much the pass game affects the National Football League. So we do feel good about this group."
Will two-to-three receivers come off the board before the Green & White go on the clock or could all of them still be there if they stay at No. 11 overall? And in a class that is loaded with both talent and depth, how closely will their group at the top be stacked?
Let's empty out the wide receiver notebook from the Combine…
Going to Get a Great Pick
Oklahoma's CeeDee Lamb was a dominant big-play performer at Oklahoma. He led the Big 12 last season and ranked third in the country with 21.4 yards per reception. His 24 catches of at least 40 yards ranks first at OU and he will be in the argument to be the first receiver taken.
"I said it yesterday with Jerry (Jeudy), there are a lot of great receivers in this class," Lamb said. "To say that we're the headlines of this receiving group, it's a huge honor. I'm grateful for the opportunity and I thank God every morning. I'm going to keep doing what I'm doing."
The 6'2", 198-pound Lamb, whose 19.0 yards per catch was highest average among Sooners with at least 130 receptions, consistently makes things happen after the catch and makes people miss in space. And Lamb says you can't go wrong with a ton of wideouts in this special group.
"This receivers class this year is honestly unbelievable in my eyes," he said. "You can't really go wrong with anybody you draft in the first, second, third or fourth rounds. Doesn't matter. The seventh. You're going to get a great pick. Me and the guys, we were just talking about it yesterday, we're very deep in this class."
History in the 40-Yard Dash
Alabama wide receiver Henry Ruggs has speed to burn and he has a number in mind when he runs the 40-yard dash Thursday night in prime time. 
"I'm trying to hit the lowest ever," Ruggs said. "So 4.22 or lower."
Ruggs, 5'11", 188 pounds, led Alabama last season with 18.6 yards per catch as 27 of his 40 receptions went for a first down or a touchdown. He also returned kicks and had six special teams tackles.
"I feel like I bring everything. I'm a playmaker," Ruggs said. "I don't just pride myself on just speed. I want to be a guy can do everything on the field. I get downfield to block for my teammates, just as they do the same for me. I play without the ball, and with the ball in my hands I can make a play."
Bama Brothers
Ruggs' college teammate, Jerry Jeudy, finished No. 2 all-time at Alabama in touchdown receptions (26) and yards per catch (17.2). The 6'1", 193-pounder left a lasting impression in his final college game, torching Michigan in the Citrus Bowl, earning MVP honors while amassing 204 yards on just 6 receptions and a touchdown.
"I don't really like to compare myself to other players, but I feel I can do it all," Jeudy said. "I can play inside, I can play outside. I know how to sit in zones and find ways to get open."
Beyond the Top Three
In addition to Lamb, Jeudy and Ruggs, there are a number of players who could earn first-round consideration including Tee Higgins (Clemson), Brandon Aiyuk (Arizona State), Laviska Shenault (Colorado) and Justin Jefferson (LSU).
After tying for the FBS lead with 111 receptions, Jefferson declared for the NFL Draft. On the national championship Tigers, he had 1,540 receiving yards and finished second in the nation with 18 receiving touchdowns
"Just my ability to get in and out of routes, I'm very versatile," Jefferson said when asked what separates him from the rest of the group. "I can do slot and outside. Just being able to play different positions on the field."
The big-bodied Shenault, whose 101 of 191 touches at Colorado went for a first down or a touchdown, ranks No. 8 on the school's all-time list with 149 catches.
"Oh, I think this is one of the best groups since Odell's group," Shenault said. "I think we're talented across the board. I think we check a lot of boxes. I think this class is going to do great things. It's definitely going to be a legendary class."