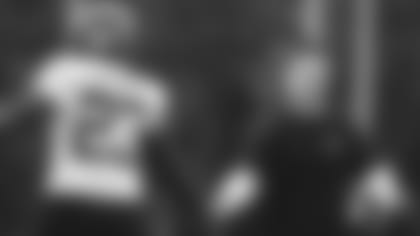 The Jets's approach is likely to be running backs by committee this season in offensive coordinator Mike LaFleur's offense that features an outside-zone-rushing scheme. What qualities best suit the scheme? LaFleur said there are some common denominators, but successful backs in this system come in many forms. 
"There's definitely an element of being able to put your foot in the ground and go north and south," he said. "You don't even need to be the most loose guy in the hips and be able to dance around and all that. You got to be able to just press it, put your foot in the ground, and go. I think that definitely stands out when you're watching, whether it be pro free agents, the guys you have or the draft. But like I said, and I truly mean it, there's so many shapes and sizes that these guys can get it done with. We've been fortunate enough and I've been fortunate enough to be around a lot of good backs within this system that we feel like we've gotten the most out of."
There are plenty of examples of backs who have had career years in this system, particularly lower draft picks or even undrafted players. Terrell Davis, a sixth-round pick in 1995, is one of the first to succeed in the Shanahan system. The Hall of Famer was a three-time first-team All-Pro, the NFL's MVP in 1998 (led the NFL in rushing) and rushed for 7,607 yards and 60 TDs en route to two Super Bowls. More recently, Raheem Mostert, Matt Breida and Jeff Wilson -- all former undrafted free agents -- had career years in this system with the 49ers while LaFleur was there.
Tevin Coleman has been with LaFleur since Atlanta (2015-16) and San Francisco (2019-20). He's the only running back on the roster with experience in this system, but LaFleur has enjoyed working with the entire group that includes La'Mical Perine (23, fourth-round pick in 2020), Ty Johnson (23, sixth-round pick in 2019), Josh Adams (24, undrafted in 2018) and rookie Michael Carter (22, fourth-round pick in 2021). Excluding Coleman, the young group has combined for seven NFL starts, but LaFleur believes they're mature beyond their years.    
"The thing that pops out is not even physically with them, these guys are mentally really, really sharp and it shows in the meeting room," he said. "I was joking when I was installing today that I got to come up with some better questions because they are popping off answers so quick to me. And I think that's a credit to their position Coach Taylor Embree, he's doing a heck of a job with them. But those guys are on it and that translates to the field.
"All of them have a unique skillset in terms of they're all a little bit different. Ty Johnson's different than La'Mical [Perine], that's different than Tevin [Coleman. But I do believe they all can be productive backs in this system. So, it'll be exciting to see how this thing shakes out. I know they're going for it."