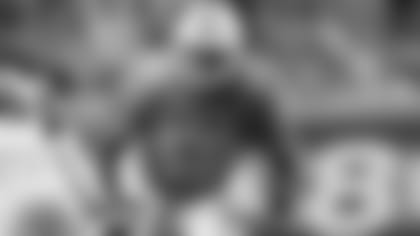 You know it's serious stuff when a guy gets married, and he tells his new bride that their honeymoon has to be delayed for a month or so as he does his usual deep dive into the NFL Draft.
That's exactly the situation for newlywed Leger Douzable, a former player for the Jets who is now an analyst for CBS Sports. Working college football games last season he's been able to see a lot of guys "up close and personal," he told team reporter Eric Allen during a pre-draft edition of "The Official Jets Podcast."
"Whether pregame or on the field live, you get to see their physical presence," he said. "I like [Tennessee's former OT] Darnell Wright. I've seen his tape, but at the Senior Bowl there was a big difference getting on the field and getting to see this guy dominate.
"Last year, Jermaine Johnson [one of the Jets' three first-round picks] dominated his first two days. Wright could be the same thing this year. Coming into Mobile, most saw him as a second-, third-round pick. Now, I wouldn't be surprised if he [Wright] is a top-15 pick. Some have him as the No. 1 tackle in the draft. He struggled a bit at left tackle. He's really built for the right side. You can put the best pass rushers on that side, and he made them disappear. That's what he did for Tennessee."
While he was keeping opposition defenses from reaching QB Hendon Hooker, one of the top-5 signal callers in the draft, Wright dominated players like Alabama's Will Anderson, who some analysts consider the best non-quarterback in the draft. With four quarterbacks possibly being the first four players selected next week (April 27-29 at Union Station in Kansas City, MO), the next most-coveted group of players is likely to be offensive linemen.
Wright (6-6, 335) played four seasons for the Vols and could bring to the Jets the same sort of versatility as third-year man Alijah Vera-Tucker. Douzable projects Paris Johnson to be the first OL off the board, probably followed by Peter Skoronski, who he said is more suited to play guard than tackle in the NFL.
"Broderick Jones [6-5, 311) has the most upside," Douzable said. "A lot of people pencil him in going to the Jets. He can play left tackle or right tackle, and could play some guard, too. He's a guy coming out with a higher ceiling than Andrew Thomas [Jones' former teammate at Georgia who now plays for the Giants]. He [Jones] is young, 21 years old with a lot of room to grow. He and Darnell Wright are the most physical. Darnell struggled at left tackle and they moved him to right tackle and he was all-world this year. He made Anderson disappear on film. He could be dominant and make the run game elite from Day 1. You don't need to look further."
If the four top O-linemen are off the board in the first round by the time the Jets are ready to exercise that No. 13 pick, Douzable said he could see general manager Joe Douglas trading back for more draft capital. He said that the team's top three needs, in the draft or via free agency, are OL, center and DT. At center, unless the Jets can make a deal with Ben Jones, a free agent, the Green & White could address the position in rounds 2 and later.
• On the Jets' pursuit of free-agent wide receiver Odell Beckham, Jr., who signed with Baltimore, Douzable said: "Joe D. is sticking to his plan, but I have to give a shoutout to Odell. I knew the Jets weren't going to pay him that type of money [reportedly $15 million for one year, with incentives that could take the deal to $18 million]. He's getting top receiver money, but he didn't even play last year [after sustaining a torn ACL in the Super Bowl]. I love Odell, but he's 31 and father time is undefeated. I'm happy he got what he got, but I just know Joe D. was never going to pay that."
• On the possibility of an impending deal for Green Bay QB Aaron Rodgers: "It's getting to the point where something needs to get done, and I think we're looking at the first two days of the draft. It seems that both teams have dug in their heels and no one is willing to blink," Douzable said...
"With Rodgers, the Jets are a playoff team and competing for the AFC East crown. He competed last year and it was a down year for him in terms of stats. And those stats [nearly 3,700 passing yards and 26 TDs] would have been one of best seasons in Jets franchise history. He would have had the Jets in the playoffs. It's crazy to think that was an off year for Rodgers, a subpar year."