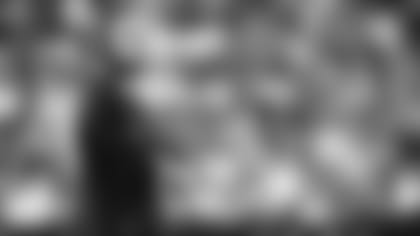 Jets head coach Robert Saleh was non-committal about a starting quarterback during his weekly Monday press conference and added he and his staff are evaluating "everything" on offense after Sunday's 10-3 loss at New England.
"Everything is on the table," he said.
Asked if he could commit to Zach Wilson remaining the Jets' starting quarterback, he said: "Not right now."
Saleh said he would need more time to digest tape of the game and would make a decision on Wednesday about who starts at quarterback -- Wilson, Mike White or Joe Flacco -- on Sunday when the Jets (6-4) host the Chicago Bears (3-8).
"I've got to be able to sit back and look at what's best for this organization and this team," Saleh said. "It's not all about the quarterback, I want to be clear. There's a lot of we need to do as coaches, everybody. I get it where everyone looks at the quarterback and throws everything on him, but it's not just the quarterback. We'll evaluate what's best for the organization and the players -- that all of them. I'm a little behind and I have to go through my process."
The Jets offense produced 59 rushing yards Sunday -- 26 by Wilson. He was 9 of 22 for 77 yards, but did not commit a turnover. The Jets failed to mount any offense of significance in the second half and lost the game on an 84-yard punt return with 5 seconds left in the game.
"I have to take a deep breath and everything needs to be evaluated," Saleh said. "When you put up 100 yards of offense, it's unacceptable. It's not NFL football. Everything is being talked about [and he added that GM Joe Douglas would be part of the discussion] how can we all be better. The quarterback is part of a pile of stuff being talked about. It's something we have to find an answer to, and have to do it by Wednesday. And by the time the players get here Wednesday, we have to put together a great game plan and put our best foot forward."
Saleh acknowledged postgame comments made by Zach Wilson and rookie wide receiver Garrett Wilson, but put it down to postgame emotions and a need to better manage and temper their responses when the sting of losing a game is still fresh.
"Obviously, football is an emotional game," Saleh said. "I'm not going to shy away from the fact I think he's [Zach Wilson] the ultimate competitor and he wants to win as much as anybody. Can he be a bit better up here on the podium? Probably. Our job to take the bullets and own it. Of course, I don't think it's indicative of how he feels about his teammates."
He added, referring to Wilson's teammates: "I think they understand and I think they have empathy for each other. We all make mistakes. Will it be something he'll get better from? Absolutely.
Carl Lawson: Loss Not 'Going to Break Us'
New England rookie Marcus Jones' 84-yard punt return for a touchdown with 5 seconds left in regulation on Sunday ruined a solid effort by the Jets' defense.
"It was extremely heartbreaking, said Lawson, who had one of the team's 6 sacks, a TFL and a QB hit of Patriots QB Mac Jones. "It's a gut punch for everybody, but it's not something that's going to break us. It might be something that's going to make us stronger.
"I've had experiences in the past where bad things have happened and I was able to keep fighting through and keep working. The outcome in the future is always better if you learn from it. And that's what's going to happen with yesterday for us as a team."
The Jets had a chance to jump into first place in the AFC East with a win but wound up falling to last in the division - still a game within first. The Jets and Pats have identical records, but with two losses to the Patriots in the last three weeks, New England currently owns the tiebreaker.
Injury Update
Saleh said that the Jets hope to get offensive lineman Nate Herbig (shin) and TE Kenny Yeboah (calf) back this week. ... WR Corey Davis (knee), who has missed the last two games, remains day to day. ... DT Sheldon Rankins (elbow) won't play against the Bears. ... And rookie OL Max Mitchell (knee) who recently came off the injured list, will be evaluated over the next couple of days to see if he should be added to the 53-man roster.