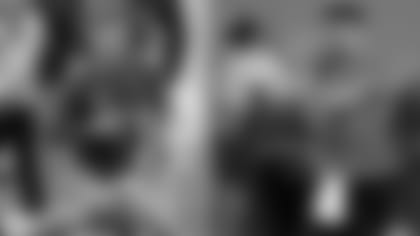 The eyes of many in the professional football world were focused on Provo, UT, late last week when BYU quarterback Zach Wilson went through his paces on his long-awaited and highly promoted NFL Pro Day. Early this week, attention shifted to Columbus, OH and Tuscaloosa, AL, as Ohio State QB Justin Fields and Alabama QB Mac Jones performed.
Zach Wilson (QB/Brigham Young University)
Wilson (6-3, 210) was sharp and threw aggressively during his workout, reportedly watched by representatives from 31 of the 32 NFL teams.
"The goal was to kind of show what makes me different, the type of throws I can make that I feel like other guys don't practice and don't try to do," Wilson said on a Zoom call. "That was the goal -- to show what makes me different."
This past season Wilson completed 73.5 percent of his passes and had 33 passing TDs to only 3 interceptions — 1 of 4 FBS QBs since 2000 to have a 70+ completion percentage and a TD-INT ratio of at least 10:1 in a single season.
After the 2018 season, Wilson had surgery on his right shoulder. He sat out the spring practice season, but returned to fall camp and was the Cougars' season starter in 2019. But he was hit by the injury bug again, fracturing the thumb on his right (throwing) hand midway through the season. He returned in 2020 healthy and had a strong season.
"I feel great, no issues," Wilson said, "It was stronger than it was before. I'm glad I got it done. Now, coming out here and showing these coaches that swag, what you're all about.
"That was why I did the shoulder surgery early on, just to show these teams that I get a couple of years under my belt of playing with a repaired shoulder. And it feels great. I have no issues; it's stronger than it was before. I'm glad I got it done."
Wilson, who is expected to be among the first three QBs taken in next month's NFL Draft, drew plenty of attention on social media for one particular throw, fading to his left and throwing back across his body on a 60+-yard connection.
"[He] made some incredible off-platform throws, to the right, to the left," said NFL Network analyst Daniel Jeremiah on "The Path to the Draft Pro Day Special." "You saw him drive the football with pace, velocity and accuracy. There were some misses down the field; I wouldn't read too much into that. It was more movement from a quarterback than I think we've ever seen for a pro day."
Where he ends up in the draft is still a matter for a month's worth of speculation, but Wilson will be pleased no matter the destination.
"Something I feel like that separates me is just my passion for the game," Wilson said. "I really put a lot of time into what I do. Throughout all the years and stuff, I really dedicated my life to football. It's crazy, when people ask me what I do outside of football — football is really my life. It's everything I've got going on.
"I'd be happy to go with any team that drafts me."
Justin Fields (QB/Ohio State)
Fields and the Buckeyes played only eight games in the 2020 season because of the Big Ten's delayed start amid the coronavirus pandemic. In 2019, however, the speedy Fields (6-3, 228) had 41 passing TDs and 10 rushing TDs. His versatility and strength makes him an appealing player, particularly for teams that run variations of the West Coast offense.
"I know my work ethic is unmatched," Fields said after his workout on Tuesday. "And just my dedication and passion to wanting to be great to another level. I think overall everybody knows my goal in 40-yard dash was to be 4.3. Thought I threw pretty well and a few missed throws. Overall I thought I had a pretty solid day."
He ran a 4.44 in the 40-yard dash, which according to Adam Schefter, would be the fastest time by a QB picked in the first round since Robert Griffin III's 4.41 at the Combine in 2012.
Asked if he's met with teams via Zoom calls, Fields said: "Yes, I've been having Zoom meetings with different teams, sitting with various coaches they pull up film and pretty much going through that film and plays I explain what I go through, the reads. What they want to know is what's going on inside my head. It's good being able to explain where my mind was and how taught to read a certain concept."
According to Bucky Brooks of NFL Network: "Fields is a five-star recruit. Fields has always been on the major stage. We've seen him play in monster games against monster competition. We've seen him in those games flash the ability to be the best guy on the field. In back-to-back years, we saw Justin Fields in playoff games against Clemson look like the best player on the field.
"I think Justin Fields has more upside [than Zach Wilson] because he's a bigger body and is more athletic. The game continues to trend toward those athletes: Lamar Jackson, Josh Allen, Pat Mahomes."
According to Pro Football Focus, Fields threw 29 TDs on deep passes (20+ air yards) from 2019-20 (second-most in FBS). PFF also reports that he was accurate on 52% of his deep pass attempts (20+ air yards) from 2019-20.
Fields' Pro Day workout regime was drawn up by the same guy, ex-NFL quarterback John Beck, who designed Wilson's workout last week at BYU. The script had Fields taking a few snaps under center and in the shotgun, and a variety of other throws to show his adaptability.
Mac Jones (QB/Alabama)
Jones (6-3, 214) is the only player this year to participate in two Pro Days -- one reason being that Alabama, with a slew of prospects, hosted two workout days, one last week and one on Tuesday. He said, according to SI.com, that he wanted to throw at both pro days to show he has nothing to hide, and also show scouts what's always been his strength — consistency.
"In real football, you just want to complete the ball," Jones said. "At the end of the day, hopefully, I did show my arm strength. I can throw it 65 or however long they need me to throw it, but in a real game, it's all about being a passer and not a thrower. I just wanted to show off. I mean, I already did one pro day, and it was fun. So come out here and sling it deep a little bit and let those guys catch some balls. It was good."
Jones had 41 pass TD and 4 INT for Alabama's national championship-winning team in 2020. In the last 15 seasons, only 2 other FBS QBs have had 40+ pass TD and fewer than 5 interceptions. And as a QB among a talent pool that includes Trevor Lawrence, Zach Wilson and Justin Fields, Jones needed to show scouts all he's got.