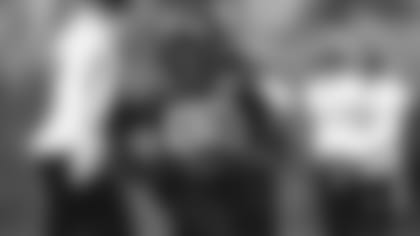 The Jets will likely be without their top three receivers again on Sunday against the defending Super Bowl champion Buccaneers as rookie WR Elijah Moore will not be activated from Injured Reserve and WR Jamison Crowder is doubtful with a calf injury that caused him to miss last week's game against the Jaguars.
"Less than 50 percent," HC Robert Saleh said of Crowder on Friday. "He won't practice today, still hopeful getting him out there on Sunday, but it's not looking good."
He added on Moore: "I plan on having a conversation with him this afternoon just to see where he's at mentally and hopefully we can get him back next week."
This time last week, the Green & White had nearly 20 players on the reserve/Covid-19 list not to mention its head coach. The team has activated a handful of players including DE John Franklin-Myers, DT Folorunso Fatukasi, S Ashtyn Davis, LG Alijah Vera-Tucker and RG Laurent Duvernay-Tardif.
Up front, however, will be the first time the offensive line will be without Connor McGovern this season. Dan Feeney, who started for Vera-Tucker at left guard last week before shifting over to center once McGovern exited with a knee injury, is in line to start. He took all 1,175 offensive snaps last season for the Chargers with rookie QB Justin Herbert.
"It's going to be an adjustment for Feeney, the quarterback and the rest of the offensive line, but Feeney has been dying for this opportunity and it's an opportunity I think he's really excited about for the next couple weeks," Saleh said.
The Jets started rookie fifth-round pick Jason Pinnock at safety last week alongside Will Parks, who signed with the team five days before Week 16's game against the Jags. Now with Davis (reserve/Covid) and Elijah Riley (concussion) back in the fold, the Jets are healthier at safety and are sorting out who will start Sunday.
"Elijah for sure," Saleh said. "We're still working on Ashtyn because he's dealing with other stuff aside form Covid. But really excited about the group. Pinnock, he's had an outstanding week this week. Having Will Parks here, proving that he deserves a role and continue to see what we have in him. And Kai [Nacua] did a nice job. So, knock on wood, it's a good group and really excited to continue to work with those guys."
Like safety and guard last week, the team's tight ends group has been ravaged by injury and Covid. Ryan Griffin (knee) and Trevon Wesco (knee) were placed on injured reserve while Tyler Kroft is on the reserve/Covid list.
"You got Dan Brown, [Kenny] Yeboah, [Conor] McDermott, obviously, showed some flashes," Saleh said jokingly about McDermott, who caught a touchdown pass last week. "We'll hopefully get [Tyler] Kroft back. If we do, that'll piece together our tight end group. Again, we'll know more tomorrow on Kroft, but regardless, someone's got to step up. And, again, it's another opportunity for those guys, whether it's Yeboah, Dan Brown, even McDermott to get some tackle eligible stuff. It all matters, so there's going to be opportunities to be had out there."
The Jets are hopeful to get some more players activated from the reserve/Covid list such as DL Quinnen Williams, CB Bryce Hall and Kroft, but it's not guaranteed they'll come return in time for Sunday.
Jeff Ulbrich and Defense Gird for Brady's Bucs
Jets defensive coordinator Jeff Ulbrich and Tampa Bay QB Tom Brady have some things in common -- and some things less so in common.
The two 44-year-old California natives grew up about 30 miles apart, Ulbrich in San Jose, Brady in San Mateo. They were both drafted by NFL teams in 2000 -- Ulbrich, a linebacker, No. 86 overall (by San Francisco) and Brady No. 199 overall by the Patriots. Ulbrich played 10 seasons for the Niners while Brady just plays on and on and on.
"My claim to fame is that I was drafted before him," the affable Ulbrich said. "That's my one thing I've done better than him."
On Sunday, Ulbrich's defense will be put to the test by Brady and the Bucs' offense. Whomever plays in the Jets' secondary, Brady has been a master at dissecting the opposition for two decades.
"Unfortunately, I don't know if there's a defensive coordinator that's had the answer or will have the answer ever, but it's going to be a fantastic challenge and I'm excited for our guys to go out there and they've made some progress as of late," Ulbrich said. "I felt like there's been some growth, although that doesn't always show up in the statistics, but to really go up against not only a great quarterback, great team, but a team that's got a lot on the line."
AVT, After Covid, Is Ready to Go
When it comes to snap-count percentage numbers there are usually only three digits -- 100 -- next to the name of Alijah Vera-Tucker. In 13 games this season, AVT has a perfect record (he missed 2 snaps against Miami), which ended when he tested positive for Covid-19 and had to sit out the Jets' victory over Jacksonville this past Sunday.
"I feel great now, I got my lungs back," said AVT, the No. 14 overall pick in the 2021 NFL Draft out of USC. "I had body aches and stuff like that. Just sitting in the house, some pushups and a couple of walks. Watching the game certainly sucked. I was pretty tired, but pretty happy with the win. Zach going off, Michael Carter and the rushing game [a league-high 273 yards in Week 16]. I was juiced up."
AVT's rookie year has been nothing short of impressive, teamed for the lion's share of games on the left (blind) side with the veteran tackle George Fant. Overall, Vera-Tucker has taken 919 snaps, which ranks him second on the team to McGovern, who is now on Injured Reserve after going down against the Jaguars.
"Rookie year there are going to be ups and downs," AVT said. "But I think it's gone well. After the season we'll go back and evaluate what I did right or wrong, what I need to do and come back better next season."
Vera-Tucker has allowed a single sack allowed a single sack according to Pro Football Focus.
Before his injury, McGovern had nothing but praise for the guy playing on his left when he said that "If you were going to build an offensive guard in a lab, it would look like AVT."
Against Tampa Bay on Sunday at MetLife Stadium, AVT and the rest of the Jets' offensive line will face a challenge in dealing with the likes of Ndamukong Suh and Vita Vea.
"That's just going to be another NFL game," Vera-Tucker said. "What I've taken away this season is that in this league everybody is good and everybody gets paid. Their whole line is good up front, it's going to be a challenge and a real physical game. We have to play a little magic stuff in the run game. It's going to be fun."
See the Top Practice Images Leading Up to the Sunday's Game Against Tampa Bay