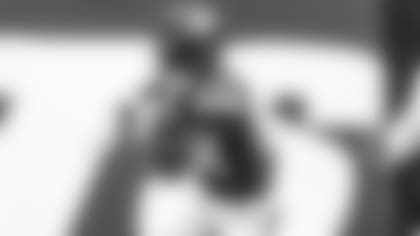 The Jets have lost another key player -- wide receiver Corey Davis -- for the rest of the season.
On Monday head coach Robert Saleh told reporters that Davis, signed in free agency from Tennessee, would have core muscle surgery this week and would not be available for the final five games of the NFL season.
"I feel awful for Corey, he's one of the true pros in this league, goes about his business the right way, shows up every day to work," Saleh said. "So for his season to be cut short, I know he's hurt, but at the same time when we get him back next year he'll be better than ever."
Davis had missed three of the last six games with a couple of nagging injuries, including groin and hip issues. But he returned to the lineup against the Eagles on Sunday and had two catches for 15 yards before heading to the sideline. The groin injury, sustained in October, kept him sidelined for a few games.
"He was cleared, and went through procedures to get ready," Saleh said. "Unfortunately, things finally gave out on him."
In nine games this season, Davis was targeted 59 times, made 34 receptions for 492 yards (14.5 average per catch) and 4 TDs. He also caught balls that resulted in 23 first downs. His longest catch came on a 53-yard TD pass from Zach Wilson in a win over the Titans, his former team.
Saleh said that he has confidence in the Jets' receiving group, which includes rookie Elijah Moore, second-year man Denzel Mims, veterans Jamison Crowder, Braxton Berrios and Jeff Smith. Keelan Cole, who has been in the Reserve/COVID-19 protocol, is expected back for Sunday's game against visiting New Orleans.
"We love our receivers group," Saleh said. "There's a lot of pieces involved, it's not one person. Everyone has to step up, do their jobs and run the offense the way it needs to be run."
Davis joins a list of players who sustained season-ending injuries including DE Carl Lawson, LB Jamien Sherwood, S Marcus Maye and S Lamarcus Joyner.
DC Jeff Ulbrich: '15 Missed Tackles' Are 'Not Going to Win Any Games'
Defensive coordinator Jeff Ulbrich minced few words on Monday.
"Fifteen missed tackles as a defense is not going to win any games," Ulbrich said of Sunday's performance against the Eagles. "We didn't play the run game as well as we're capable."
The Jets (3-9) entered the game against Philadelphia (6-7) prepared for an Eagles team that features the NFL's top-ranked rush attack. With starting QB Jalen Hurts out with an ankle injury, Gardner Minshew started at QB and turned in a strong game. In total, the Eagles had 418 yards of total offense, including 185 on the ground.
"We prepared for the Philadelphia Eagles offense," Ulbrich said. "The biggest thing with Jalen, and it might sound counterintuitive because he's more of a runner, but he's more of the guy who takes shots down the field. And Minshew is more of the intermediate [passing] guy. They didn't change much of who they are."
After Sunday's game, Jets linebacker C.J. Mosley said that the Eagles were disrespectful of their opponent. Saleh did not dispute the words of his captain on the defense, but did say that respect is not a given. It must be earned.
"C.J. is 100 percent right," Saleh said. "Respect in this league is earned not given. As an organization, it's been a rough 10 years. It's not easy to change the narrative and perception. But we will get this thing flipped and earn the respect that's deserved. It is going to happen.
"This is the fifth time I've been a part of one of these [rebuilding efforts]. The best coaches coach themselves, but the players run it. It's like raising a child, you guide them, give them the traditions and the fundamentals and hope they take hold. It's the same thing, you give the players every tool and avenue and want them to take hold and you hope they take it the right way. For guys like C.J., he's spent his life winning, at Alabama, at Baltimore. Then he comes here and sees we don't get the benefit of the doubt. From a media standpoint, one loss is a disaster. Yes, it's frustrating. But when you look at guys like C.J., Foley [Folorunso Fatukasi] and Quinnen [Williams], they are the reason why this is going to work. Guys have to continue to hold onto the rope and continue fighting."
Jarrad Davis Accepts His Limited Role
Linebacker Jarrad Davis, signed in free agency from Detroit, missed the first seven games of the season after sustaining an ankle injury in the preseason game at Green Bay. He returned in Week 8, against the Bengals, and gradually worked his way back with increased playing time -- which peaked with him playing 73% of the snaps at Indianapolis, but has gradually declined since. Against the Eagles, he saw the field for 6 plays (8%) on defense, though he did take 20 plays (83%) on special teams.
"It was a pretty extensive injury," he said on Monday. "It's been a long road back. It [the ankle] was immobilized for four weeks. I'm feeling better. I'm just keeping my head down and grinding.
"I'm getting stronger day by day, week by week. I'm staying positive."
Even though he hasn't seen the field much on defense in the past three games, Davis said he is fully engaged and has been eager, willing and able to help his teammates.
"I've been helping out on specials, helping out the best way I know how," he said. "Just be prepared when my number is called, be supportive. When the defense comes to the sideline I'm giving advice to Quincy [Williams] and the D-line. I'm watching every play. I can't see everybody, but I see a lot. I'm helping out the best way I can."
See All of the Top Images from the Week 13 Matchup