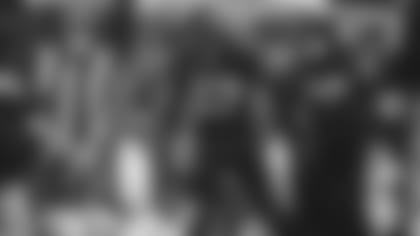 Back when the days were long and sweltering, Jets general manager Joe Douglas said he expected his team to play meaningful games in December.
Mission accomplished ... mostly, with six challenging games left on the Jets (7-4) regular-season schedule.
"The biggest thing we acknowledge is that we have a chance to play some cool games, we acknowledge that the opportunity doesn't exist if we focus only on the moment," head coach Robert Saleh said. "We put yesterday [Sunday's 31-01 win over Chicago] to bed, and now we prepare for [9-2] Minnesota. We have to focus on the process. If we're busy counting wins, we'll be missing out on opportunities to focus on what we have control over. The opportunity won't exist if we're not taking care of our jobs."
After playing the first-place team in the NFC North, the Jets next travel to Upstate New York for an AFC East rematch against the Buffalo Bills, who will certainly be looking for payback after the Jets' 20-17 upset win on Nov. 6.
"It's great to be where we are," Saleh told reporters on Monday afternoon. "We expected to have a competitive football team. At the same time, we haven't accomplished anything. We have six games left, the first one at Minnesota. I always say only one team will be happy at the end of the year. We just have to focus on the moment. It's awesome to be where we are. It's fun, it gives you purpose to play for more than a paycheck. At the same time, we have to focus on the moment."
After QB Mike White lit up the Bears for 315 yards and 3 TD passes, Saleh was asked if -- and when -- Zach Wilson, the No. 2 pick in the 2021 NFL Draft, would regain the starting job.
"It's exactly what we talked about, it's week to week," Saleh said. "We intend to get Zach to play football again [this season]. I'll make that decision when I'm ready. This is Mike White's opportunity to take advantage of every last play he gets."
Ty Johnson Remained Patient
Running back Ty Johnson watched from the sideline as rookie Breece Hall rolled up yards and accolades before sustaining a season-ending injury. He watched as Michael Carter stepped into the breach (until sustaining an ankle injury against the Bears) and as the Jets moved quickly to acquire James Robinson from Jacksonville.
Johnson watched and waited. On Sunday against Chicago, he got his shot -- rushing 5 times for 62 yards (12.4 yards per carry), including a tackle-breaking 32-yard TD jaunt in the third quarter that gave the Jets their final points of the afternoon. He also caught a pass from Mike White for 16 yards.
"It's about having the opportunity and prepping and being patient whatever the job is," said Johnson, who also played 14 snaps on special teams. "I will go in there and do what I need to do. Just take your shot and let it hang out.
"For me, I know I can play whether anyone else thinks that. It's just a matter of when you get that chance. It is 100 percent belief and faith in myself, just a matter of time and making the most of it. I've been blessed to be in the same system for a second year now. I'm locked in and prepped for everything."
Duane Brown on the Jets: 'Great Talent, Great Leadership'
Veteran offensive tackle Duane Brown was in the building at MetLife Stadium when the Jets played their annual intrasquad game in August. Brown has been in the NFL trenches since 2008, when he was a 23-year-old rookie with Houston. Through 15 seasons and 203 regular season games with the Texans and then the Seahawks, he said that he was quickly sold on joining the Green & White.
"Looking at Coach Saleh and his philosophy, I saw how bought in everyone was to his philosophy and how he goes about his business," Brown said. "I saw a team ready to play hard week in and week out, a very talented roster. I looked at the defensive line, the depth, and when you have a defense as great as that you have a chance to win all the time. The talent on offense is young and I thought I could use my experience, a veteran presence, to help bring the young guys along as best I could. I thought the roster, top to bottom was great. Talent and great leadership."
So after signing on, the 37-year-old left tackle who was brought in to help settle a line hit hard by injury, proceeded to injure his shoulder. Surgery was an option, but Brown opted to rehab in the hope of playing this season. He missed the Jets' first four games but has since played 100% of the snaps in seven-straight games.
"[The injury] played a part for me personally -- I've never missed a whole season," Brown said. "It was disappointing to suffer the injury and knowing I wouldn't be able to play, and all these fears came into play. After a couple of games, I felt pretty good, effective and could produce the way I needed to. When we got rolling it gave more incentive to stay healthy. With the history of this organization, to get to the point where we want to go, it would mean a lot for me, the team and the city. I wanted to play to prove to myself I could do it. It's a great feeling to be right here."