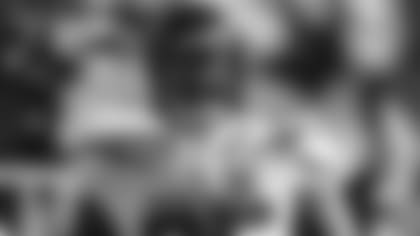 Quinnen Williams' Introduction to Leadership 101 course was led by an unlikely superstar: Kobe Bryant.
The Jets' defensive lineman and Bryant -- who died in a helicopter crash last year with eight other people, including his daughter -- hit it off when Williams trained at Bryant's Mamba Sports Academy (since renamed) in Thousand Oaks, Calif.
"Kobe helped me out a lot," Williams said last week on the "Good Morning America" show on the NFL Network. "I trained at Mamba Sports Academy, and he used to come in there every single morning at 4:30 a.m.. He said 'Q, meet me here at 4:30.' And I used to go up there and meet him at 4:30, but he'd be getting done with his workout at 4:30, and in my head I'm like 'Bro, like you told me to come up, so we could talk at 4:30 and you're getting done with your workout, so what time you really had to get here to work out?'
"To see him wake up at 3:30 in the morning to work out and then want to sit there and have a conversation with me at 4:30, it's like nobody's doing this. You see what I'm saying? It was just one of the biggest things that I take that he gave me through life on the field and off the field."
As Williams, 23, prepares for his third campaign in the NFL, he can look back on a breakout season in 2020. The defensive tackle out of Alabama recorded 55 total tackles, 10 for loss, 7 sacks, 14 quarterback hits, 3 pass defenses and 2 forced fumbles in 13 games. He missed the final three games of the regular season because of a neck injury but will be an important player under new Head Coach Robert Saleh and defensive coordinator Jeff Ulbrich.
He has embraced a leadership role and said that Bryant helped him to realize what it takes to be a leader.
"The No. 1 thing he told me: Nobody's going to follow someone who's not doing their job," Williams said. "And that was the main thing that stuck with me. You got to set in stone that you're a dominant player first. You got to go in there and take over and make sure everybody knows like whenever Q says something or whenever this person says something, they're going to automatically follow because they see you doing the right thing, they see you doing everything first. … I feel like that was the No. 1 thing he taught me about a leader is, like, you got to dominate first to become a leader because nobody is going to follow nobody who's just out there talking."
Draft: Strengths and Weaknesses
Mel Kiper is bullish on three position groups, bearish on a fourth, as we inch closer to the NFL Draft at the end of April in Cleveland.
"The position groups of strength are at wide receiver, offensive line and cornerback," he writes. "There could be three receivers in the top 10 picks, and it's deep throughout. There will be Day 2 picks who make an impact as rookies. As far as the offensive line, this is one of the best classes for tackles in the last decade. There could be four or five picked in Round 1. It's a talented and loaded crop of corners, too -- I expect a bunch of starters to go in the second round.
"The biggest weakness is the lack of pure, 4-3 hand-in-the-dirt defensive ends. There's no Myles Garrett or Joey Bosa at the top of the class, and even guys like Gregory Rousseau (quick-twitch ability) and Kwity Paye (production) have major flaws. Of course, teams always covet edge rushers, so we're likely going to see a few prospects get overdrafted."
The Jets -- who have five picks in the first three rounds, three of the top 34, two each in Round 1 and Round 3 – could be interested in players among all four position groups.
Using Analytics as Part of the Personnel Puzzle
The Jets plan to use all the tools leading up to free agency and the NFL Draft -- and one of those tools is analytics.
During last week's press conference, GM Joe Douglas and HC Robert Saleh spoke, among other topics, about the Jets' use of analytics and how the data measures up against in-person scouting.
"I personally love having the analytics involved in our meetings," Douglas said. "Brian Shields, Jason Feldman, Zach Stuart, the three guys in our analytics team, they do an outstanding job of gathering a ton of great information and just outstanding nuggets and presenting them. When we go over every player, whether it's free agency or draft, they have some input and some great information. For me, even though I was raised in more of a scouting, eye-test background, there's real value in having this objective data in terms of helping us evaluate."
Saleh added: "You watch tape and you look at the information and all the analytical data that's presented to you either confirms or challenges what you are actually seeing on tape. It forces you, when it's not on the same page, to dig deeper, to get yourself on the same page."