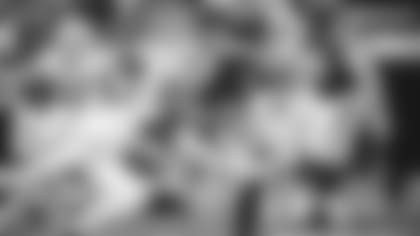 The Jets will likely be without WR-KR Braxton Berrios, who scored two touchdowns last week against the Buccaneers and has led the team in receptions and yards each of the last two games. He has not practiced this week because of a quad injury
"We're still holding out hope, but it's not looking good at all," HC Robert Saleh said. "We may have to make a decision sooner than we'd like."
Fellow wideout Elijah Moore, who is on injured reserve with a quad injury, is "trending south, too" and is not likely to play. The Green & White, however, will get WR Jamison Crowder back in the lineup after he missed the last two games. Crowder is a reliable target and has led the Jets in receptions each of the last two seasons, and he's on track to do so again. He paces the team with 50 catches to go with 431 yards and 2 TDs.
QB Zach Wilson and his banged-up receiving corps will line up against the Bills' No. 1 pass defense, but they rank No. 19 against the run, which has been the Green & White's forte the last two weeks. In Weeks 16-17, the Jets have rushed for the second-most yards in the league despite moving pieces up front. The offensive line is with backup C Dan Feeney, whose 92.8 Pro Football Focus run-block grade in Week 17 ranked first among interior OL, and LT Chuma Edoga. The backs will be at full strength with Michael Carter (concussion) and Tevin Coleman (reserve/Covid) back in the lineup, so look for the Jets to continue to pound the rock in Orchard Park, NY.
"I think the run game is always going to be important," Saleh said. "It's one thing that we've been trying to establish. I think our O-line, [John Benton], Mike [LaFleur], they've done an unbelievable job getting it up to speed. Especially in this time of year, it's cold, it's going to be slippery, a little wet. You're in December/January, being able to run the football is everything. Obviously any time it's going to be important. There's something about the run game that just wears on people and when you can do it, it just makes it easier to play the game of football. It opens up everything else, so it's very important."
Jeff Ulbrich Has Lasting 'Impression' From First Meeting
The last time the Jets and Bills played (Week 10), Buffalo won, 45-17, at MetLife Stadium behind QB Josh Allen's 366 yards and 2 TDs. Earlier this week DT Sheldon Rankins said that the defense has "redemption in its heart" and DC Jeff Ulbrich said that there was probably a sense of embarrassment after last game for both players and coaches.
"If that's the little added motivation to prepare, to meet and to walkthrough and to practice, whatever it takes," he said. "I don't pass judgment on guys and what motivates them because everybody's motivated a little bit different way. I would definitely say that there's some guys, probably including myself in some ways, that want some redemption. When a team has got a comfortable lead on you and they keep throwing the ball deep on you, that leaves a mark, that leaves an impression."
The defense has improved since the teams' first meeting in many categories. From Weeks 1-10, the Green & White ranked last in the NFL allowing 32.89 points per game. Since, it's allowing 25.86 points per game. The most dramatic improvements, however, have been in interceptions per attempt (from No. 32 to No. 19), yards per rush (29 to 12), passing yards per game (31 to 21), and red-zone efficiency (20 to T12).
"I think the stage of our development as far as a defense is concerned like improvement, progress, that is the absolute biggest thing that we're trying to achieve," Ulbrich said. "To go out there and play against a team that is competing for a better playoff spot, seeding, whatever the case may be in a very hostile environment, to me it's like the ultimate measuring stick of where we are, how far we've come. I think that, especially the last four games, I feel like there has been improvement.
"My biggest thing is I just want us to go out like we always know to be a playoff contender in this league you have to own your division and you have to create an impression and you got to dominate your division opponents. So, part of its improvement, part of it's to let this division know it's not the same old Jets team that they've been accustomed to."
Allen said of the Jets defense: "They're a hungry defense. Their coaches are extremely energetic and we know that they're going to be pumped up and ready to come play and try to take the division away from us at home. If I were in that position, I'd feel the same way. It's an opportunity for them to come in here and do something special in their eyes, end their season on a good note and get some momentum towards the next season. They're playing very fast, they're playing very physical and they're going to play very hungry on Sunday."
Saleh Enjoying the Rollercoaster, Sees a 'Fun Few Months' Ahead
Taking a moment to reflect on his first year as head coach of the New York Jets, Saleh, who agreed to become the 20th head coach in franchise history on Jan. 14, 2021, is excited about what's being built in Florham Park. While the results are not what he wanted, he's excited about the groundwork in Year 1 and what's to come in Year 2.
"It's been a rollercoaster, but it's been a rollercoaster we were expecting," he said. "It is interesting, as I said, you don't really know until you're actually in it. When you talk to the people around, talk to you guys, the fans, the scars run pretty deep. You're trying to absorb it all and trying to understand it, but at the same time, there's a lot of confidence in this building about the direction we're going. It's not to say that there were bad people in place before. I think you hire the people you hire, you do the best you can and whatever happens, happens.
"Speaking for Joe [Douglas] and myself, really excited about the foundation we've been able to lay down here. The players that have been working relentlessly, the guys who have gotten opportunities, it has not been smooth by any stretch of the imagination, which I think we can all agree on, but I think there have been tremendous steps in regard to learning, understanding each other -- the fanbase, the organization, you guys -- and really try to build something that's going to have longevity. That's why this game, along with the offseason, is really exciting. It's going to be a fun next few months."
See the Top Practice Images Leading Up to the Sunday's Game Against Buffalo