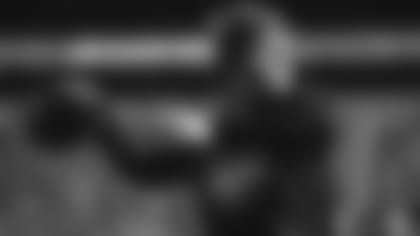 Will rookie quarterback Zach Wilson be under center on Sunday at Houston?
The answer from head coach Robert Saleh: Tune in Wednesday.
"Zach had a good workout yesterday [before Sunday's game against Miami], he's being evaluated today and another there's evaluation tomorrow [Tuesday]. From there, we'll be able to make a decision Wednesday morning."
Saleh added: "We said we are going to make sure we protect this young man. When he is fully healthy, there are no limitations and he's not thinking about that knee then we'll get him out there on the field. But he has to be 100 percent healthy to be out on the field."
Several times during Sunday's game, Saleh flashed some of the emotion and the fire he's been known for especially during his time as the San Francisco 49ers' defensive guru. He was asked what prompted him to act, particularly when his defense made a play and got off the field early in the game.
"I will try to clarify," he said. "A lot of times it's emotion, I get the perception. I'm more celebratory when great things happen, when something bad is happening I'm self-reflective. But I'm not going to embarrass a player or a coach in public. I'm going to be demonstrative in celebratory moments. When we were getting blown out, I was not going to be demonstrative. Discussions behind closed doors might be different. If people interpret a lack of screaming as lack of emotion they're misguided."
C.J. Mosley Keeps His Head About Him
Miami's 14-play, 75-yard to the go-ahead TD on Sunday left linebacker C.J. Mosley with a bad taste in his mouth and perhaps some ringing in his ears. On the scoring play -- a 5-yard pass over the middle to Myles Gaskin -- Mosley had a helmet-to-helmet encounter with a teammate.
"A little friendly fire on the goal line," he said on Monday. "Everything's OK. Everything's well."
On Sunday, the Green & White defense limited explosive plays (though the Dolphins did score on a 60-yard-plus pass play), and Quincy Williams played like a demon as he recorded 15 total tackles (10 of the solo variety).
"With all respect to Quincy, it showed when he first signed with us," Mosley said. "He's had an up-and-down time with injuries and learning how to be a pro. He took a big step, to nobody's surprise. His stats, his style -- to be aggressive, run and hit, it's what we want from linebackers and anyone on our team. He's also making energetic plays on specials."
What's his assessment of where the team is with seven games left in the season?
"Win, lose or draw the goals, individual or team, when things don't go your way it's the easiest time to let off the pedal, maybe not study, not go to the cold tub," he said. "That's what separates the men from the boys. Coach Saleh has told the young guys they're not rookies anymore, to cut out the small mistakes, they have to learn fast. And he's challenged the older guys to not make mistakes either. We have to hold each other accountable."
Morgan Moses Plans to Play Through the Pain
Offensive tackle Morgan Moses stands out as one of general manager Joe Douglas' savvy finds this season. He has been a stalwart on a Jets offensive line that, in the absence of Mekhi Becton, has played consistently well. Seeing Moses hobble off the field with an ankle injury on Sunday was not a welcome sight.
"I'm sore as heck right now," Moses, who missed only eight snaps, said on Monday. "I'm going to spend the rest of the day rehabbing. It's an ankle bone contusion, not too bad. I got to play through the pain ... one day at a time. Once I got back there [to the sideline] they looked at me and just tried to tape up as tight as possible to get it going. I've played a lot of football [he's in his eighth season in the NFL] and I've played injured before. I just have to figure out this week, keep the swelling down, run a bit and get it going for Sunday."
Asked for his assessment, as a veteran, of first-year head coach Robert Saleh, Moses takes the long view.
"One thing in this league, you have to have patience, this is not going to turn around in one day," he said. "What you see in him, he's been there on the losing and on the winning side. He knows what it feels like. We have to continue putting our best foot forward. Time is running out, opportunities are running out. And that's it."
ST Coach Brant Boyer on Kicking Game: 'There Is a Certain Concern'
In 10 games this season, Matt Ammendola has made 11 of his 16 field goal attempts. Against the Dolphins, Ammendola made 1-of-3 attempts with his misfires coming from 55 and 40 yards.
"I've been so busy getting corrections done from today, positive and negative," special teams coordinator Brant Boyer said. "I'm sure we [the coaching staff] will talk about it later this afternoon or tomorrow."
Ammendola's first attempt, from 55 yards in the second quarter, had enough distance but hit the upright and bounded away. It would have given the Jets a 10-7 lead if it had been good. Then in the third quarter, an attempt from 40 yards out was wide left when the Jets were trailing by 14-7.
"There is a certain concern," Boyer said. "He hit a good ball on the 55-yarder. He just came through a little too much. We talk about not letting one bad play ruin your whole day. You can't allow that to happen. You have to put mistakes behind you and move on. That's something he needs to improve on. It has to be water off your back. Those that can let it slide off their backs, those are the best players in this league and those that can't are the ones that don't last a long time."
He added: "He's got to convert in those situations. It's on me as well. We've got to have points in those situations. We have to be better at it."