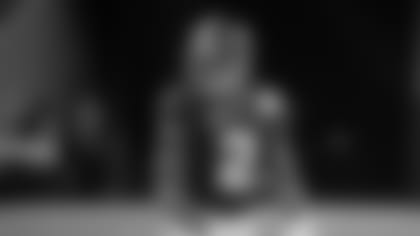 Last week brought the big quarterback showcase (Zach Wilson and Justin Fields) ahead of the 2021 NFL Draft, which starts in Cleveland on April 29. This week we put the focus on a bit of offense, and a bit of defense.
Perhaps one of the strongest position groups in the draft is among cornerbacks. Each of this week's quartet -- Patrick Surtain III, Jaycee Horn, Greg Newsome II and Caleb Farley -- could go in the first round, certainly by the end of the second round. Surtain and Farley both opted out of their Pro Days, but their bodies of work needed no padding (Farley sat out the season over virus concerns).
The players on offense this week -- Najee Harris and DeVonta Smith -- were both stars at Alabama who are likely to be snapped up in Round 1. If we want to speculate, at least one (probably more) of the cornerbacks will still be around when the Jets pick at No. 23 and the same could be said of Harris.
Patrick Surtain III (CB/Alabama)
Surtain (6-2, 208), the son of the three-time Pro Bowl CB Patrick Surtain I, is among Daniel Jeremiah's Top 15 players in the draft; the No. 2 cornerback after Virginia Tech's Caleb Farley, who sat out last season. Surtain participated in Day 1 of Bama's two Pro Days, running the 40-yard dash in 4.42 seconds, broad jumping 10-11, a 39-inch vertical jump; and totaled 18 reps of 225 pounds on the bench press.
"He's in the mix to be the first corner off the board, and I thought he was a really solid workout for him," NFL Network's Daniel Jeremiah said. "The numbers were great, and I thought the field workout, he moved around and was really fluid for a big guy, which is not easy to do."
Jaycee Horn (CB, South Carolina)
Horn (6-1, 205) ran an unofficial time of 4.37 seconds in the 40-yard dash. The native of Alpharetta, GA, and the son of Joe Horn who played wide receiver in the CFL and NFL from (1995-2007), does not lack confidence.
"I feel I'm the best defensive player in the draft," Horn said after his Pro Day performance. "I'm versatile, have the size, [have] the speed and athleticism."
Horn is listed as No. 23 overall on Jeremiah's draft board; and the No. 3 corner in the draft by Bucky Brooks. On 24 targets in 2020, Horn allowed only 8 receptions and had a 33.3 completion percentage (tied for third among CBs on teams in Power 5 conferences).
Last season, Horn started seven games (leading the team with six passes broken up) before he opted out of the remainder of the season after Will Muschamp was fired as coach and because of family issues associated with the coronavirus pandemic (his grandparents and a number or relatives caught COVID-19, and an aunt died); and to prepare for the NFL draft. He faced some negative comments about his decision, but stuck by it.
"I could tell you now, if I could go back, I'd do it again," he said. "I put my family before anything. I feel my teammates and coaches know how much I love the game of football, but I put my family before the game."
Horn added: "I fought through it and I'm in a better place now."
Najee Harris (RB/Alabama)
Harris (6-2, 230) was a backfield workhorse for the Crimson Tide, running for 3,843 yards on 638 carries with 46 rushing TDs over his collegiate career. He rushed for 1,200-plus yards each of the past two seasons and is vying with Clemson's Travis Etienne to see which RB goes first in the NFL draft.
He upped his game as a receiver the last two seasons, overall he had 80 receptions for 781 yards and 11 TDs. He even flashed some prowess throwing the ball a week ago, connecting with QB Mac Jones on a triple-option play.
Did someone say triple threat?
Greg Newsome II (CB/Northwestern)
Newsome (6-1, 190), a Chicago native who stayed home to play for the Wildcats, ran an impressive 4.38 in the 40-yard dash and had a 40-inch vertical leap as he continues to elbow his way into the conversation among the top handful of cornerbacks in the 2021 NFL Draft.
Ranked No. 31 overall in Jeremiah's Top 50 players in the draft, Newsome in 2019 recorded 36 total tackles and 11 pass deflections, and became a lockdown corner for the Wildcats last season. In an abbreviated 2020 Big Ten season, Newsome had 12 tackles, 9 pass breakups and an interception, enough to earn first-team All-Big Ten honors. All with quarterbacks rarely throwing his way.
"There's really no secrets," Newsome told USAToday.com after his drills about his abilities in deep coverage. "It's just a mentality. I'm a very confident player. If I eliminate those deep routes, I don't think a team's going to beat us. Just knowing that, and knowing where my help's coming from, knowing that my guy on the other side of the field is doing his job, you know, I just don't want to let the team down. I just trust in my technique, and work it a lot in practice. We focus a lot on playing through the hands, and things like that. I don't really know if there's a secret; you've just got to go out there, be confident, and be a dog out there."
DeVonta Smith (WR/Alabama)
Smith (6-1, 175) became the fourth WR to win the Heisman Trophy, in 2020, and the other three (Johnny Rogers in 1973, Tim Brown in 1988 and Desmond Howard in 1992) all were selected in the first round of the draft. This time around, there's a lot of competition.
Brooks has him as No. 3 on his list of WRs, behind Ja'Marr Chase of LSU and Smith's Crimson Tide teammate Jaylen Waddle. He, too, however, opted out of Pro Days and let his stats -- 117 receptions for 1,856 receiving yards and 23 TDs do the talking.
Caleb Farley (CB/Virginia Tech)
Farley (6-2, 207) opted out of the 2020 season because of the coronavirus pandemic; he was named All-ACC after a stellar season in 2019.
"I cannot afford to lose another parent or loved one," he said (Farley's mother, Robin, died of breast cancer in 2018).
He took a pass at the Hokies' Pro Day after undergoing a back procedure. Nevertheless, Jeremiah ranks Farley as the fifth-best player in the draft. Brooks has him as the second-best CB in the draft, after Patrick Surtain II of Alabama. According to Pro Football Focus, Farley allowed a 36% completion rate and a 26.8 passer rating in 2019, both the lowest by any FBS CB targeted at least 50 times.