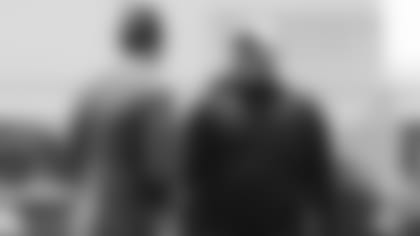 Joe Douglas may be in his first year as a Jets general manager, but his outstanding reputation throughout the league has many thinking he will find success with his measured approach to both free agency and the draft.
"Joe Douglas is highly respected, and I work with Daniel Jeremiah — our draft expert — who worked with Joe for a long time," said NFL Network's Steve Wyche. "He [Jeremiah] just loves him and thinks he's going to do a fantastic job. Now the key is to work in concert with Adam Gase and his staff to really figure it out. Teams draft for needs and the Jets do really need to draft some specific positions early in the rounds to fortify that offensive line and fill some holes on defense as well."
Adding pieces to the offensive line was the first priority for Douglas, and he added five pieces to the position in a span of just a couple weeks. Between Alex Lewis, George Fant, Conner McGovern, Greg Van Roten and Josh Andrews, the new linemen total over 25 years of NFL experience.
"Clearly, they needed to address what they needed to address, and that's the offensive line," Wyche said. "They still have work to do, and I would not be surprised if by the time the Jets come around, that's still where they are in the first and second rounds of the Draft. You have to protect Sam Darnold."
Douglas has gone to work elsewhere this spring. Following the departure of former Jets wide receiver Robby Anderson to Carolina, he signed former Buccaneers WR Breshad Perriman. Defensively, Douglas re-signed LB Jordan Jenkins and CB Brian Poole and picked up a veteran CB in Pierre Desir. Now, with the first few waves of free agency complete, the first-year GM will turn his focus to the draft.
"It's going to be interesting, but I think Joe Douglas knows what they need to do and I think they are in position to fill some draft holes," Wyche said. "Now is the time to make a move. Tom Brady is gone and that division is more open than it's been, so if the Jets want to make some noise, this is when they really need to start putting their cleats in the ground and gain some traction."
Through a disciplined approach, Douglas has created more flexibility for further moves down the line. Since joining the Green & White, his main priority has been to create the best culture in professional sports. As of now, he's on the right track, but there is work to be done.
"They've got to be explosive and they need to get playmakers," Wyche said. "That doesn't mean that they all have to be high draft picks or fancy names, but they've got to get speed. Look at the two teams in the Super Bowl last year, the 49ers and the Chiefs. They had guys who could go. They had guys who could take the ball away. That's where the Jets need to get to if they want to be competitive."