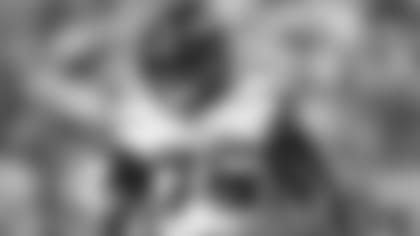 NFL Network's Brian Baldinger sees Jets rookie left guard Vera-Tucker as a long-term cornerstone, a guy who brings to mind the Jets' former All-Pro, stalwart left tackle D'Brickashaw Ferguson.
"Alijah Vera-Tucker is going to be a really good player. He's a good player now," Baldinger told team reporter Eric Allen and Leger Douzable on "The Official Jets Podcast." "He's the whole package. He's got real power and he can move people. When he hits people he moves people, I don't care who it is. That's No. 1.
"No. 2, he has great hands. When he gets hands on people he's driving a car, steering you. He plays with awareness on stunts or getting into the run game at the proper angle so [RB Michael} Carter can cut off him. Any runs that gained yards [last Sunday against the Falcons] went to the left, even the cut backs when they cut back behind him. He's got heavy hands, good power and good balance. He's hasn't been off balance or on the ground, he's on his feet. It's pretty easy to sell me on Alijah Vera-Tucker after the first five weeks."
Vera-Tucker earned Pro Football Focus' highest grade in Week 5 among offensive linemen at 92.4. He had a run-block grade of 90.6 and a pass-block grade of 88.9. In addition, PFF reports that AVT is the 14th highest-rated guard and the second-highest rated rookie through the first five weeks. His overall grade was hurt by Pass Pro, which said that he gave up 14 pressures in Weeks 1-3, but over the last two weeks, has not allowed any.
The Jets moved up in the first round of this year's draft to take the 2020 Morris Trophy winner out of USC. He has played in all 309 snaps on offense after missing the preseason and is expected to form a formidable left side of the line once tackle Mekhi Becton returns from injury.
"You have to move the ball consistently," Baldinger said. "Big plays will happen when you can secure the line of scrimmage and give the quarterback time. Mekhi is a big part of it; Michael Carter is a good player, but not the bellcow, but a really good one-two punch with another guy."
Continuing the Build Around Zach Wilson
The success of rookie quarterback Zach Wilson and the Jets offense -- really any quarterback, rookie or veteran, and any offense in the NFL -- is tethered like an umbilical cord to the strength and talent on the offensive line.
Wilson took some hard hits early on that have had an impact, according Brian Baldinger. The silver lining, however, has been the emergence of rookie left guard Alijah Vera-Tucker.
"Every good quarterback needs a good offensive line and running game, I don't care who you are," Baldinger said. "You go out and draft these guys [Wilson, Bills' Josh Allen, Chargers' Justin Herbert to name three] and you never stop building around them, upgrading. It's not as easy to allow them to grow and you don't want to make them feel they have to do it all by themselves all the time."
He added: "These young quarterbacks, really any quarterback, if you hit them early ... It's just hard. You see it all the time with these guys, hit them early and hard, and they're not staying in there, setting their feet and making throws. They're going to whirlybird it and let it fly out of their hands."
Through the Jets' first three games this season (all losses), Wilson was sacked 15 times. In the two subsequent games, the offensive line kept him clean in the sack department all but three times. He has not, however, been able to benefit from a consistent running game that has gained 370 yards over 5 games, led by rookie RB Michael Carter's 165 yards. Carter has scored 2 rush TDs in as many games and Ty Johnson scored on the ground in Week 5.
"Fans don't understand that these guys [rookie QBs] were drafted high because their teams weren't very good," Baldinger said. "Even if you take [Patrick Mahomes]. He sat behind [Alex] Smith in 2017, and they were a playoff team. They already had a good offensive line, a proven coach [Andy Reid], and had a lot of pieces. You have to look deeper.
"Coaching is the difference in this business. A good coach can make a good player, a bad system can sink players. Sometimes you never find out what a player could have been because they get damaged so quickly. Coaching is huge. I say it all the time: It's harder to replace good coaches than good players. Look at Tampa Bay. They won it all and didn't lose one coach."
Overlooked by the Jets' first half struggles is the Wilson-led offense has picked up the pace in the points department in a big way. After being limited to 20 points through three games, the Jets totaled 47 points in games against the Titans and the Falcons.
Wilson said this week: "We need to just be able to keep learning and getting better. Really just kind of forgetting about the past and understanding that, you know what, it sucks to not do super well the first five games, but we have a lot to look forward to. I'm very hopeful watching the film as far as just what we've shown on film and what we know we can do and how close we are to getting it done. We need to just be able to just keep going with it."