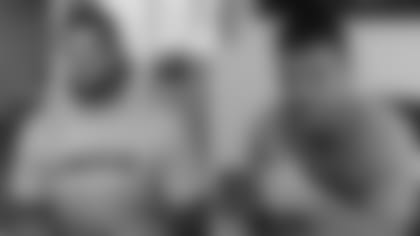 Round 4 (No. 137 Overall)
"He's probably more of a guard than a tackle in the NFL, but there should be no concerns about moving him inside given how strong he is," wrote Fischer. "He's a small-school kid but handled things just fine when playing top competition and, with a little refinement, should become a starter for the Jets. He still needs a little bit of work against top defensive tackles when pass blocking but should be able to open up running lanes for backs with ease."
Dozier, a 6'4", 313-pound Furman product who signed with the Jets Wednesday, promises to play with a mean streak.
"I feel like I'm somebody who plays very tough, loves to finish blocks. I like to be nasty," he told us Saturday. "I don't care what you think about me. When we're playing a game — my goal is to get you out of the way or put you on your back. I'm going to do whatever it takes to get that done. In my mind, you have to keep going. There is no stopping."
Round 7 (No. 233 Overall)
"His knee is still a concern, but this is just a tremendous value for the Jets this late in the draft," wrote Fischer. "He can stand up or put his hand in the ground and will likely do both for Rex Ryan. He can find his way to the backfield or set the edge if needed. He'll be tremendous on special teams, as well, and should be one of the hardest workers on the team."
The 6'5", 245-pound Reilly, who racked up 20.5 sacks at Utah, also put to pen paper on his first pro contract today. Reilly will probably be the oldest player on the field this weekend at rookie minicamp as the 26-year-old rookie served a Mormon mission in Sweden.
"A lot of teams had me anywhere between a late second to a sixth-round grade," Reilly told NewYorkJets.com. "So when I got the past the sixth round, I started to get worried. Obviously my age probably played a part in me not going higher, but… I'm very happy to be a Jet and I'm very grateful that they were able to draft me in the seventh round."