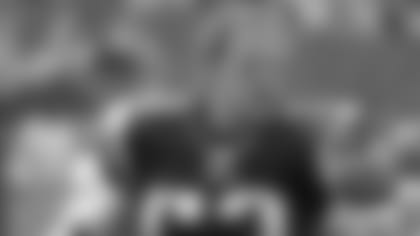 That's correct. Izzo, NFL special teams royalty who has worn the aqua and coral of the Dolphins and the red, white and blue of the Patriots, will be donning green and white this season.
This news flew under the radar, but it's an interesting transaction just the same. We'll venture a guess that Izzo is not coming to the Jets to start at linebacker, his defensive position — not with him entering his 13th NFL season, set to turn 35 after the start of the 2009 season, and with zero pro starts to his credit.
But Izzo is a specialist first class. He's a three-time AFC Pro Bowl special teams player, not to mention a three-time Super Bowl contributor with the Pats.
By New England's reckoning, he has 257 special teams tackles in his career, plus 23 more in the playoffs. By the more conservative calculations of Stats Inc., he has fewer total tackles, 199, but that is still the most by any NFL player since the stat service began tracking ST tackles in 1994. Here are the top three tacklers of the past 15 seasons:
| | | | | |
| --- | --- | --- | --- | --- |
| Player | Teams | Years | Games | UT-AT-TT |
| Larry Izzo | MIA-NE | 1996-2008 | 188 | 155-44-199 |
| Keith Burns | DEN-CHI-TB | 1994-2006 | 197 | 154-43-197 |
| Gary Stills | KC-BAL-STL | 1999-2008 | 133 | 142-13-155 |
What's more, he's reunited (and it feels so good) with Mike Westhoff, his original ST boss for his first four pro seasons with Miami (not including '97, which he lost to an Achilles' tear). And he's leaving New England, for which he served the last eight seasons as teams captain.
Also, the Jets lost a teams captain of their own to free agency with Cleveland's signing of David Bowens and have suffered at Izzo's whirling-dervish activity over the years.
He's played 23 games against them over the years and recorded 19 of his ST tackles. But possibly his biggest play vs. the Jets wasn't a tackle but a block — on Ellis Hobbs' NFL-record 108-yard kickoff return, which opened the second half of the Jets' 2007 season opener vs. the Pats.
Away from the field, Izzo, like so many other players on the Jets and around the league, is a major player in the community. Much of his charitable work is done with members of the U.S. Armed Forces. He's visited 8,500 crew members of the U.S.S. Carl Vinson at Pearl Harbor during Pro Bowl week in 2002 and visited troops in Afghanistan, Iraq, Kuwait and Qatar on an NFL-sponsored USO tour in '05.
And the last three years in Boston he has hosted a celebrity karaoke night that has benefited a half dozen veterans causes. The name of the event: "Larry-oke."
The man's a natural performer. And he has the track record to marshal the Jets' special teamers in Rex Ryan's first campaign as Jets head coach.