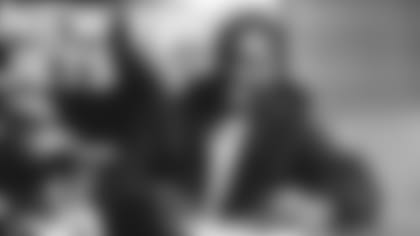 The possibility of playing pitch-and-catch-and-run-like-the-wind with a future Hall of Fame quarterback played some part in wide receiver Mecole Hardman Jr.'s decision to sign as an unrestricted free agent with the Jets. But in his first interview with team reporters Thursday, he said his verdict was based on a little larger picture.
"I definitely still would've signed here just because of the coaching staff that's here," Hardman said when asked a second time if the widely reported Aaron Rodgers trade affected where in the NFL he might end up. "Nobody knows what's happening with this deal. You all know what I know basically. What did it do for my decision? Nothing, basically. Allen Lazard signing here, Garrett Wilson being here, the coaching staff, that was a big part of my decision outside of the A-Rod thing going on."
Don't get Hardman wrong. He said of working with Rodgers, assuming the trade falls into place, "That's something you can think about." But he's also thinking about the right fit for him with his new WR group, which has been transformed this offseason under general manager Joe Douglas and head coach Robert Saleh's direction.
For starters, there's Hardman's speed, which he said won't be hurt by the core surgery he underwent a little over a month ago. Among other things, the injury cost him an appearance in the Chiefs' Super Bowl win over the Eagles.
"This is definitely not going to hold me back from trying to get faster," he said. "I think Coach Hackett [new Jets OC Nathaniel Hackett] with this offense can definitely utilize my speed and certain things I do well and incorporate it throughout the game plan."
Just how fast is Hardman? He'll be among the fastest wideouts to ever wear the green and white. Hardman's 40 time at the 2019 NFL Combine was 4.33 seconds. That's tied for the 14th-fastest Combine time by any WR since 2006.
As for franchise history, Wesley Walker turned in a 4.35 by ST coach Joe Gardi's stopwatch at the Jets' 1977 rookie minicamp. Three years later, Lam Jones roared to a 4.34 a week or so before the Jets took him No. 2 overall in the 1980 draft. The only faster time is believed to be by Jacoby Ford, who turned in a 4.28 at the 2010 Combine, but Ford was a Jet for only the 2014 offseason and preseason.
Add that speed element to Lazard's height dimension. It's somewhat amazing to consider that no Jets or Titans WR who made it to the regular season measured 6-6 or taller and that Lazard is tied with seven other wideouts in franchise history at 6-5, among them Plaxico Burress in 2011 (believed to be the tallest Jets WR at 6-5⅜), Brandon Marshall in 2015-16 (6-4½) and Patrick Turner from 2009-12 (6-5⅛).
But the 2023 passing offense will be about more than Lazard's large frame, Wilson's sophomore encore, and the jets that new Jet Hardman turns on for some of his patented Jet Sweeps, such as the 30-yard TD reception off a one-foot shovel pass from Patrick Mahomes in the Chiefs' 2021 win over, of course, the Jets. Hardman didn't want to fault reporters and fans who may have typecast him but says he can be multifaceted.
"The role I had in Kansas City was the role that was given to me and a role that I did very well," he said. "But I think being in this offense, I can probably show people a little more than just the quick game, the jet sweeps. I can actually show a little bit of the route tree, catching the ball across the middle or running outbreaking routes, to show a little bit more of my game."
One thing Hardman assures everyone is that he will be focused as a Jet, no matter the role — and even if that role includes some returning, which he did a lot of his first two seasons with KC.
"Definitely the return game is something I love to do and probably will continue to do here, if that's the plan, if they want me to do that," he said. "Receiver-wise, I just want to do what I can do to help the team win games.
"My expectations are to earn the respect of my teammates and coaches and get this playbook down so I can start playing freely and just show everybody what I can do."