Vick, 33, an unrestricted free agent, signed with us this afternoon and joins the competition at quarterback for the 2014 season. At the moment that competition includes Geno Smith and Matt Simms but not Mark Sanchez, whose release was announced shortly before Vick's signing.
"It means a lot to have the chance to come in and play for a great organization that had a lot of success last year and being on the brink of doing some good things," Vick said early this evening. "Maybe I can come here and be an asset whenever my number's called. I'm excited, I'm elated, and I feel like this is a great opportunity for me and my family."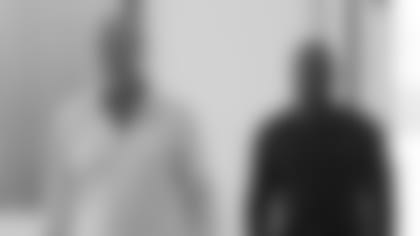 "We are excited to acquire Michael Vick," said offensive coordinator Marty Mornhinweg, who was Vick's OC for four seasons with the Philadelphia Eagles. "He's a great talent who's won many games, including playoff games, in this league. He has the respect of both his teammates and opponents. He's here in a role where he's going to compete and push Geno Smith to become the very best that he can be. Michael will be able to go in and play at a high level and a winning level if called upon."
Vick's NFL career is well-documented. From 2001-06 he started 67 games for the Atlanta Falcons, completing 53.8% of his passes for 11,505 yards, 71 touchdowns and 52 interceptions. He also was among the most dangerous running QBs in the league, averaging 7.3 yards a carry and scoring 21 TDs.
Then with the Eagles from 2009-12, he started 36 games, cut back some on his rushing and improved his passing to 60.0% accuracy, threw for 8,769 yards, 52 TDs and 30 INTs, and hiked his passer rating 12 points to 87.8.
For his regular-season career, Michael Vick has thrown 128 TDs and 85 interceptions, has an 80.9 passer rating and a 58-48-1 record as a starter. He also quarterbacked the Falcons and Eagles to two playoff berths each and compiled a 2-4 postseason record as a starter. He was a Pro Bowler with Atlanta after the 2002, '04 and '05 seasons and with Philadelphia after his first full season as a starter in 2010.
Last season Vick started Philadelphia's first five games and six in all before finishing the year backing up Nick Foles.
Vick's off-the-field issues have also been well-documented. In August 2007 he pleaded guilty to federal felony charges in connection with dog-fighting. He served 21 months in prison and thus sat out the 2007 and '08 NFL seasons before returning to the game with the Eagles in '09.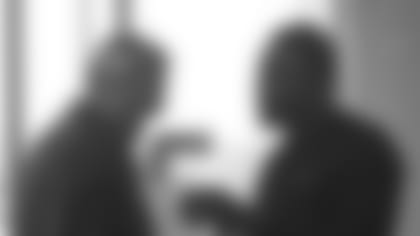 "We welcome Michael Vick to our team," owner Woody Johnson said tonight. "We fully understand the gravity of some of his past actions, and we believe he has paid his debt to society and has taken advantage of his second chance." 
Vick is now reunited with Mornhinweg, who took over the Jets offense under head coach Rex Ryan last season and will compete with Smith, last year's 16-game rookie starter, and Simms for positions in the QB depth chart and roles in the offense.
"Physically I'm 100 percent. When I took my physical, the trainers told me I was one of the healthiest players to come through here in some time," Vick joked with senior reporter Eric Allen. "My role is going to be to get in and win football games whenever my number's called, and be the best I can be and help all the quarterbacks become the best they can be."
Here are some numbers from the different parts of Vick's regular-season NFL career (*Four seasons under Mornhinweg with the Eagles):
This article has been reproduced in a new format and may be missing content or contain faulty links. Please use the Contact Us link in our site footer to report an issue.