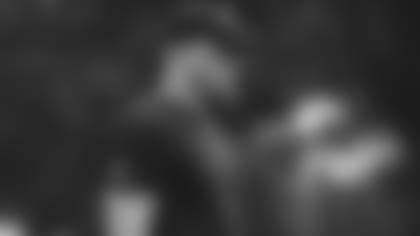 Nathaniel Hackett might be in his first season as the Jets' offensive coordinator, but he has a deep well of experience dealing with the Green & White's arch nemesis -- New England and its head coach Bill Belichick.
"I remember my first game as [Buffalo's] OC in 2013," Hackett said on Thursday. "It was against Belichick [a 23-21 Patriots win in Orchard Park, NY]. He's amazing, he's amazing. We know how great a defensive coach he is — they've always been a good defense. They have a way to do a lot of the same stuff and make it look different. It's because the players out there cause confusion. They try to take your best players and take them away.
"In essence, they're doing the same thing over and over again, and do a great job with that. It's the illusion of complexity."
It's no illusion, however, that the Patriots have put together a 14-game winning streak against the Jets, including 7 straight wins at MetLife Stadium. While Hackett and the vast majority of Jets players have had no involvement over that span, the urgency to win and get back on track is greater than any historical lesson might offer.
After QB Zach Wilson and his teammates rallied in the regular-season opener -- after Aaron Rodgers was forced from the game -- it gave Hackett a sense of what is possible. A successful ground game that put up 172 rushing yards while the defense limited Buffalo to 97 rushing yards and managed 4 takeaways to help spark the overtime win.
But in each of the team's first two games, third-down efficiency has been an issue. Against the Bills, the Jets converted 5 of 13 (38.5%) and then 1 of 10 (10%) last week at Dallas.
"Any time you have a small amount of plays, I think it was 13 before the final two minutes [of the first half; 46 overall], it's going to be hard to get anything going," Hackett said. "We had a good plan, but if you don't get the plays — you can't do much."
He added: "Everybody's workload was very low. We didn't have a lot of plays and that hurts us because we can't get a lot of people involved if you don't convert on third down."
Wilson led the Jets with 36 rushing yards, the majority of which he compiled at the end of the first half. RB Breece Hall had 4 carries and Wilson completed 12-of-27 passes against a tenacious Cowboys defense led by LB Micah Parsons.
The Jets will face a similar challenge on Sunday against New England (0-2) LB Matt Judon, who had a sack and 2 TFL in last week's loss to the Miami Dolphins.
"He's different [than Parsons], but very talented," Hackett said. "He drops and he'll pressure. They are so disciplined up front, well coached and have been in the same system a long time. They are not only talented, but it's another defense we're going against that has been together for a while. Not only does he [Judon] have that talent, he knows where to fit. We have to try to keep him guessing, as much as we can."
Hackett said that he's been encouraged by Wilson's play since he was pressed into duty.  
"It's two games now," Hackett said. "I think he's been great, you always want to build that trust and make sure he knows I have his best interests at heart. We're always trying to figure out how to be better for him, so he has that 'can't-stop-me mentality.' We continue to talk and know each other, only time makes that stronger."
Hackett circled back to the absolute necessity of converting on third downs, which will give Wilson and the offense an opportunity to get the Jets' skill players more involved. He pointed to the quick-strike TD pass last week from Z. Wilson to Garrett Wilson as an example of the offense's capability.
"He is a great person first and foremost," Hackett said of G. Wilson. "He really know how he handles himself and works hard. On gameday, he's wild, one of the most intense guys I've been around. I appreciate that from him. He wants the ball every play and believes he's going to win every play. He holds people to a high standard and also knows there's more to the game. He's mature and maturing more every day."
In the end, Hackett added: "It's about us and what we do as an offense and as a team."
See the Jets back on the field for Wednesday's practice to start Patriots week.