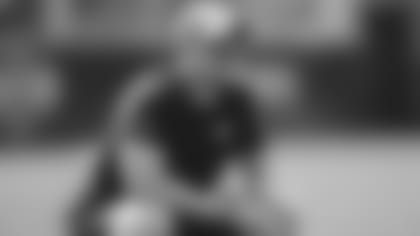 Right off the bat in his leadoff press conference on Thursday, Jets offensive coordinator Nathaniel Hackett was asked about Aaron Rodgers' season-ending Achilles tendon tear.
"I don't think there are words to describe how much he means to me as a human being," said Hackett, who worked with Rodgers in Green Bay and whose addition to the Jets coaching staff acted like a magnet in attracting the four-time NFL MVP to One Jets Drive. "I feel horrible for him. He was all in with this organization, and it was unbelievable to see the impact he's had on this team, the love, to see the standard he set and carried on through that game."
But will Rodgers be back? 
"Oh yeah," Hackett said emphatically. "Whenever Aaron Rodgers has his mind set on something, good luck getting him to change his mind."
At halftime on Monday night, with the Jets trailing the visiting Bills, 13-3, Hackett said he was encouraged to see the reaction in the locker room, especially among the players on offense, and particularly from Zach Wilson.
"My respect for him [Wilson] is off the charts," Hackett said. "For a guy to come in there and execute the way he did was so great to see. In the locker room at the half, how the team responded, especially the offense. They were fired up for the challenge and I think Zach did a really good job and kept his composure."
With the Jets trailing, 10-3, late in the second quarter, Wilson's pass intended for Randall Cobb over the middle was intercepted by Buffalo LB Mike Milano. The Bills added a late field goal to build a 10-point lead. Right after the miscue, Hackett went to work with his quarterback.
"Hackett is like the eternal optimist," head coach Robert Saleh said on Wednesday. "His way of coaching, his style is reassuring. So that moment, that is a big moment, he was on the field obviously, which is big and to let Zach know like, 'hey, you made a mistake, who gives a [expletive]?' Excuse my language.
"Move on to the next play, and just to have that, it's going to be fine, to get him back on track and to help him maintain that level of confidence. I always argued that a coach's No. 1 job above scheme, above everything else, is to make their players feel like they can walk on water. That's our job. I think he's one of those special coaches who has that ability. If you think about it, the last thing I mean, there's a big reason why Aaron wanted to be here is because of the coaching style of Nathaniel Hackett. That's how special of a human he is."
After completing 5-of-8 passes for 41 yards in the first half, Wilson connected on 9-of-13 passes for 99 yards and a thrilling TD pass to WR Garrett Wilson. Perhaps more important is that Wilson converted four times on critical third downs and teased the possibilities when he connected with Allen Lazard with a third-down missile good for 24 yards in the first quarter.
"He understands the protection, he's adjusted his footwork, getting the ball out earlier," Hackett said. "In the beginning, it was all new and fresh. Now we're in a more in true West Coast-style and we're seeing it become natural. That one to Lazard on the incut ... that thing was absolutely breathtaking. The timing to get the ball out before the rush. Not that he's growing from the past, just that he's in a new system, gaining knowledge and understanding it."
He added: "There's a fine line whenever you have an athletic quarterback. You want to take advantage, but the right way, it's part of his training, understanding the rhythm [of the game] and putting in the work Aaron coached him and I think he benefited. First job of a quarterback is to get the ball in playmakers' hands, and what he's been working on is timing and moving in the pocket. Every quarterback is different. We want Zach to be Zach. We want all players to be who they are. My job is to put them in the best position to succeed. There are certain things Zach can do that are exciting and we want to take advantage of that."
Right after the completion of last season, Saleh and general manager Joe Douglas made it clear that Wilson would have to take a step back as the team pursued a veteran quarterback. Wilson embraced the larger challenge of settling into that backseat, going to school as Rodgers took him under his wing. Now he must put all he's learned into play.
"That's the past, this is the future," Hackett said. "This guy has been training his butt off, learning a new system and growing within it. There are ups and downs with all quarterbacks and all players. For me as a coach, all I want is to keep teaching him, getting him to feel more comfortable and keep growing.
"You want your quarterback to just be a quarterback, be able to go out and have that can't-stop-me mentality, run or pass. Have their minds working and make sure we're always doing the right thing."