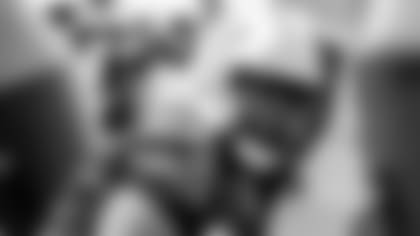 After working many odd jobs to pay his way through college, Jets' third-round pick Nathan Shepherd is excited to call football his profession.
"Surprising enough, there's not as much free time as you might've thought, having to do all those other jobs," Shepherd told reporters at rookie minicamp. "I'm really looking forward to embracing being a professional."
The 6'4", 315-pounder is taking a day-by-day approach, learning the playbook and adjusting to head coach Todd Bowles' and defensive coordinator Kacy Rodgers' scheme.
"I think whatever opportunity the Jets have for me is going to be more than enough," he said. "If they need help in a certain area, then I feel honored they would come to me for that. Again, looking to the season and things like that, I have to take care of today first. Tomorrow will come."
Since being drafted, Shepherd has kept a football mindset. He hasn't had much time to reflect on his journey from Canada to Kansas, and now, to the Big Apple.
"You just really have to be in the moment. Take what you learn from the past, whether it's hard work or discipline," he said. "As far as the future, you can't really think too much about that. And right now, I'm just in the present. This is the most important thing for me right now."
However, Shepherd believes there will be a time down the road when he recognizes his accomplishment of achieving his dreams as an NFL player.
"I think that moment will come and it's probably going to be when I get my locker and I have my jersey," he said. "I was fortunate enough to keep my number. I have my jersey from college, so I think when I take that picture with my college jersey and my pro jersey, that moment will sink in for me."
While some pundits believe the Fort Hays State product might need time to develop before making an impact, head coach Todd Bowles is not in that camp.
"He's a football player. They play football the same way," he said of Shepherd's competition in Division II. "When you look at the tape, you look at the football player. Obviously he was at the Senior Bowl, but he's no different than anybody else."
Bowles said task No. 1 for Shepherd is to understand blocking schemes. The Jets significantly bolstered their defensive line depth last Saturday with the selections of Shepherd and sixth-round pick Folorunso Fatukasi in addition to a trade acquisition of former Colts DL Henry Anderson.
Shepherd recorded 10 sacks and 27 tackles for loss in three years at Fort Hays State and the heavy-handed Canadian could help the Jets disrupt the quarterback more in 2018.
"We expect him to have an impact as a defensive lineman, but sacks come differently for different people," Bowles said. "As long as he does what he's supposed to do, and we're sure he will, he'll get better and we'll see where the pass rush and sacks come."