The Jets took coordinator John Morton's new offense to game action for the first time last Saturday and Morton liked what he saw out of his quarterbacks.
Morton primarily fielded questions during his Tuesday media availability regarding second-year passer Christian Hackenberg, who played the most of the three QBs.
"I thought he did a really good job," Morton said of Hackenberg. "He took care of the ball. That's the number one thing we've always talked about with everybody. He was decisive with his throws. I thought he was accurate and I thought he did a really nice job."
The first-year play caller has stressed protecting the football since he was hired in January as he's told the media in the past that teams win 82% of their games if they win the turnover battle. Hackenberg was neutral in the TD/TO ratio and finished 18/25 for 127 yards in two and a half quarters of play against the Titans.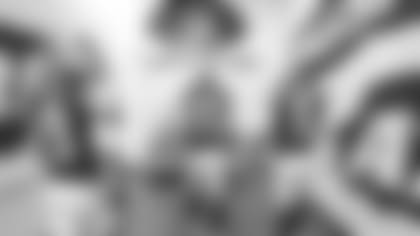 Throughout training camp, 15-year veteran Josh McCown has taken the majority of first-team reps and he started the preseason opener. In one series, McCown led the Jets on an eight play, 78-yard scoring drive that ended in a Charone Peake 4-yard touchdown.
"I like his leadership and how he takes control of the offense," Morton said of McCown. "He's seen a lot of football. I like that he has experience. That's the biggest thing. He's been big for the whole team, not just the quarterback."
McCown's veteran presence and competitive spirit are two of the many reasons the Green & White targeted him in the offseason. The 38-year-old has been a mentor to both Hackenberg and Bryce Petty, who started four games for the Jets towards the end of 2016.
"I thought he's been pretty good for the most part," Morton said regarding Petty. "I think he needs a little more consistency, but I thought he did a pretty decent job the other night too. He threw a decent ball in there and it was dropped. It could've been a touchdown, but I think he's come along a long way."
The Jets averaged 5.3 yards per pass play against Tennessee as they're working out the kinks while still learning Morton's complex West Coast offense.  
"We're still in training camp mode in a sense," he said of opening up the playbook. "So we have plays and we call plays, but we're taking shots."