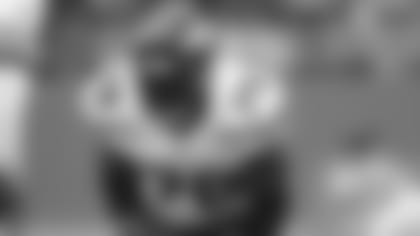 Offensive tackle Morgan Moses came to the Jets this past July with a reputation for durability. He did nothing to alter that perception throughout the 2021 NFL season.
After playing in 104 games with Washington from 2014-20, Moses signed a one-year deal with the Green & White, dived into competition at right tackle with George Fant, and then found himself as key player on the O-line in all 17 games when Mekhi Becton sustained a season-ending knee injury in the Week 1 game at Carolina.
"I think everybody's situation is different," Moses said after the Jets completed the regular season. He sustained a knee injury in the finale at Buffalo, but an MRI scan revealed no damage to an medial collateral ligament (MCL) and he passed his team exit physical.
"Coming here was a breath of fresh air for me," he said. "The organization was willing to do what it takes to make players comfortable, and the families, too. When you have those things, for example day care at the stadium, those things make life easier to come to work. The only thing to worry about is football. We want guys to come in and dial in, and not worry about the outside. They have a plan and it's planned out. You got your quarterback."
"Your quarterback" is, of course, Zach Wilson. And one of the keys to success for the Jets or really any NFL team, is protecting the guy who serves as the field general. Fant fit in seamlessly at left tackle, next to promising and impressive rookie Alijah Vera-Tucker, while Moses on the right allowed only four sacks across his 17 games and played a significant role as the run game improved through the season.
"It's been great to see the growth in a young play caller, to see how he starts to demand greatness from guys around him," Moses said. "He lost receivers [Corey Davis, Elijah Moore, Jamsion Crowder, Ryan Griffin for long stretches] but for him, he didn't skip a beat. That's what you look for in a franchise quarterback."
While the Jets do indeed have flexibility as the offseason gets rolling -- cap space, a good number of expiring contracts, and the Holy Grail of two first round draft picks and four picks among the top 38 selections -- the composition of the offensive line is high on general manager Joe Douglas' list of priorities. In addition to Moses, other O-linemen entering free agency include Laurent Duvernay-Tardif, Dan Feeney and Conor McDermott.
"We're always going to be an organization that values the line of scrimmage and controlling the line," Douglas told team reporter Eric Allen. "Investing in that is important. When we get to where we're going to be and play in a game like last night [Jan. 9 against the Bills], we're going to have to win in the trenches and you need a certain mentality to do it."
As he approaches his 31st birthday, on March 3, Moses acknowledges that he, along with several other of Douglas' signings in free agency, were making a bet on themselves. After appearing in those 17 games and taking 100% of the snaps on offense in 13 of them, Moses has shown he still has gas in the tank of his imposing 6-6, 318-pound body.
"I got released in the middle of May and wanted to see what was out there," he said. "I wanted to get a feel for an organization and I was able to do that. My time here has been a blessing since Day 1. Everything they told me was 100 percent true. I think this organization has the makeup to be a great organization. I think winning is right around the corner.
"It's been a roller coaster. You lose players, never have the same lineup through the season, and what you see is guys coming out here buying into the system and working their trails off. Guys getting opportunities to play because of injuries and they show up. It comes down to coaching, being 100 percent a players' coach. [Coach Robert Saleh] wants you to get better and bring you along. That's contagious. Everyone wants to be a part of it."
With a veteran's perspective, Moses said that he thinks winning is around the corner and that Saleh is the right guy to build a deep and strong roster, and create a winning culture now and into the future.
"We're right there," Moses said. "He's talked about winning in the fourth quarter. It's about that one score and who's going to get better this offseason, who's going to be that playmaker when we have close games. You have to get over those humps. It's about just coming together. Just seeing how this system has worked in the past, Year 2 is a jump year. So buy in, use the offseason to get into the best shape as possible so get the ball rolling in OTAs.
"We have a lot of great players, draft picks. We'll get more pieces and I'm excited to see what's going to happen."
See the best images of Jets O-Line during the 2021 season.