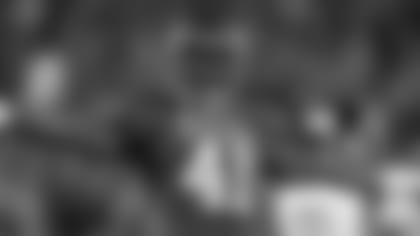 Round 1, No. 3, Edge Josh Allen, Kentucky
"There will be plenty of discussion by the Jets' brass about taking Alabama game wrecker Quinnen Williams here. However, they opt to add an edge rusher to team with inside force Leonard Williams."
NFL Network — Chad Reuter
Round 1, No. 3, Edge Nick Bosa, Ohio State
"Nick ends up as the No. 3 pick in the draft, like his brother Joey was three years ago. The heavy-handed younger Bosa is the base end the Jets need."
Round 3, No. 68, OT Greg Little, Mississippi
"Finding a tackle should be foremost on the minds of management at this pick since the Jets do not have a second-round selection (because of the Sam Darnold trade). Each year, there is at least one good value at tackle available early in the third round, and Little fits that description."
Round 3, No. 93, CB Julian Love, Notre Dame
"Love's a pass-breakup machine (36 over his last two seasons) despite his average size and straight-line speed. The Jets may have found a strong talent to bolster their depth at a roster trouble spot."
Round 4, No. 105, C Connor McGovern, Penn State
"Sam Darnold's offensive line gets another addition in McGovern, a potential starter at center as a rookie."
Round 1, No. 3, Edge Josh Allen, Kentucky
"In a real-life scenario, this is a trade-down situation, as the Jets general manager … He's got a top-five grade for us and he fits a need."
Round 1, No. 6 (via trade with Giants), OT Jonah Williams, Alabama
"The Jets move down, get an extra first-round pick, and get somebody they believe can protect Sam Darnold's blindside for years to come."
Round 1, No. 17 (via trade with Giants), CB Greedy Williams, LSU
"With their second pick of the first round the Jets address an area of need, taking LSU's Williams. As I said earlier, tastes vary when it comes to this CB class, but Williams' pass coverage skills and instincts are strong enough that you live with his deficiencies in the run game."