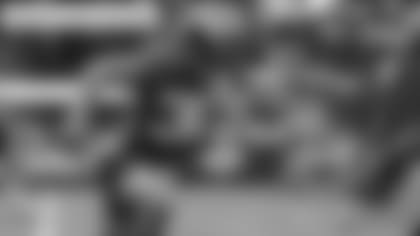 The past several months it's been a lot of Jets players speaking glowingly about a lot of other Jets players. Everybody in green and white loves what Aaron Rodgers has been bringing to the table, of course. It's the same with Rookies of the Year Sauce Gardner and Garrett Wilson as well as Quinnen Williams, C.J. Mosley and D.J. Reed.
You might make soom room at that training table for Michael Carter II. The Jets' nickel is starting to hear about his play and his impact from some of those big names mentioned above.
"I appreciate them for saying that," Carter said after Saturday's third practice of training camp, also the Jets' first in front of many of their fans in the expanded stands at the Atlantic Health Training Center. "Everyone's got a job to do. I just try to be consistent, make sure I'm on my details, and make everybody else's job a little easier and vice versa."
Rodgers perhaps started the MCII ball rolling back in June when he reflected on the Packers' preparation for the Jets pass defense before the 2022 meeting at Green Bay.
"I remember last year, we felt like we wanted to get after MC," Rodgers said. "And then after the game, I think everybody was like, 'He's a pretty damn good player.' But also a good person."
Then after Friday's practice, cornermate Gardner gave a great scouting report.
"I feel like he doesn't get that much credit," Gardner said. "When I'm sitting in the meeting room and hearing Coach TO [CBs coach Tony Oden] talks to Mike about all he's got to do, it makes me not only respect the nickel position in general but respect Michael Carter. I feel like me and D.J., we do our thing, we're what people see from the outside looking in. But Michael, what he does is not easy but he makes it look easy. We always tip our hat to Mike."
"It definitely means a lot, man, because Sauce and D.J. make my job easier," Carter said. "They can say it's super hard, which, I mean, it's tough, but everybody has a tough job down in, down out."
So then why has Carter been flying under the radar his first two Jets seasons? Perhaps because he's at a position that some NFL watchers say is the most undervalued in football, and so his numbers don't jump out. For starters, while Gardner and Reed each played more than 1,100 defensive snaps last season, Carter was on the field for 732 snaps.
He got his first two pro interceptions last season and jumped his passes defensed from five as a rookie to nine. His tackling dipped, from 72 to 63, yet he still teamed with his two outside admirers to give the Jets one of the best run-support corner positions in the NFL.
But the hard work was hardly over this offseason.
"I really self-scouted to see where my weaknesses were, whether it was DB training, working on press or zone, or breaking down film on different receivers," he said, adding about bumping his weight up from last year's 184 pounds to 193 as of Saturday morning, "As far as the weight room, I was getting stronger. I'm heavier but still lean and all that stuff to be able to be more physical and take on those blocks on the perimeter."
Carter wouldn't mind graduating from being one of the Jets' unsung heroes to being named a Pro Bowler and an All-Pro, but first things first.
"At the end of the day, I'll just let the work speak for itself," he said. "Kenny Moore, Mike Hilton, K'Waun Williams, those types of [slot corners], I want to be in that conversation, too. I feel like the work I put in this offseason, it was all geared to wanting to be the best nickel in the league this season and going forward."
Robert Saleh is fine if opponents continue to overlook No. 30 in the Jets slot because the HC knows the value of his nickel.
"Michael's underappreciated because he doesn't have the splash name, he doesn't make the splash plays," Saleh said. "But if you go back and watch, you're like, 'Damn, he's pretty good.' He's learning the nuances, he's getting better, he's physical, he's smart, he communicates really well and he's fearless. So we're really excited about having him."
See the best photos from the first open practice of 2023 Jets Training Camp.