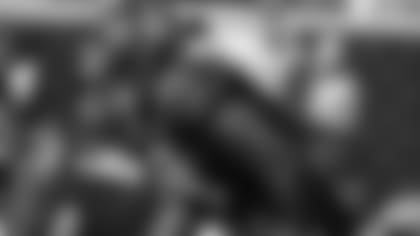 During the early stages of the Jets' virtual offseason program and before the team's rookie orientation commenced, Mekhi Becton was asked by a reporter if he had any goals for his first professional season. Becton, a Louisville product who was taken with the 11th overall selection in the draft, had a pair in mind and it speaks to his mentality. He wants to play and he wants to contribute on a winner.
"I want to start as a rookie and I want to make the playoffs," he said. "I would say those would be my rookie goals."
The 6'7", 364-pound Becton is a big man, but he is not an expansive talker. The athletically gifted offensive tackle, who posted a 5.1 time in the 40-yard dash at the NFL Combine, has reiterated a self-scout that is simple and direct.
"I like to finish and I like to dominate in run and in pass," he has said multiple times since being drafted. "That's what I'm going to bring him to the table."
An unusual offseason for all, Becton has not yet been in a classroom with his teammates nor been able to hop on the grass at One Jets Drive. When he is not participating in computer sessions with the Green & White, he continues to train under the tutelage of Duke Manyweather.
"I've still been going over to his house to train," Becton said of the private offensive line coach. "It's still been the same routine I've been doing, it's just that I'm on a team now."
Becton, who worked out prior to the draft with Jets' fourth-round pick Cameron Clark, believes the offensive line will develop good chemistry and bond well. In addition to Clark, the former collegiate standout at Charlotte, Becton regularly communicates with veteran T George Fant and he has exchanged texts with a pair of talented offensive performers he will be charged to protect and pave the way for.
"Me and George Fant have been talking a lot, Cameron Clark, that's my guy," Becton said. "I've talked to Sam Darnold a little bit through text messages and Le'Veon Bell through text messages as well."
Becton, a Highland Springs, VA native who helped Louisville rush for 212.1 YPG last season, will not wear the No. 73 he donned for the Cardinals in the NFL. The Jets retired Ring of Honor inductee Joe Klecko's No. 73 in 2004 and Becton has his eyes on another number in the 70s.
"I wanted to try something new because I didn't feel right in 70. That's my high school number and then 73 is retired," he said. "I feel like 77 is just a different journey, a new journey to start."