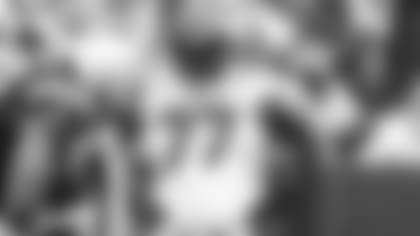 After the Jets placed LT Duane Brown on injured reserve Saturday (hip/shoulder), the Green & White started rookie Joe Tippmann at right guard, Alijah Vera-Tucker at right tackle and Mekhi Becton at left tackle against the Patriots.
"This is the way we were practicing all week," head coach Robert Saleh said after the Jets' 15-10 loss Sunday at MetLife Stadium. "We've been cross-training AVT to play right tackle just because of Mekhi coming off the injury and Duane coming off an injury also — we had to have somebody ready. We were prepared for this three weeks ago. Unfortunately, we had to use it, but we were ready for it."
Tippmann, the Jets' second round pick in April's NFL Draft (No. 43), made his first career start at a position he did not play much in college. The Wisconsin product played in 24 games for the Badgers over his last two seasons and took 1,456 snaps – 11 at guard. In the preseason, Tippmann took 156 snaps at center and 15 at left guard. He said it took him one drive for him to get comfortable Sunday.
"It took a little time for me to set my pads," he said. "Being able to go against our defense all the time, which is just phenomenal, it wasn't that big of adjustment. There a couple drives late where I really need get going faster next time."
Tippmann started to take first-team reps on Thursday after O-lineman Wes Schweitzer sustained a concussion in practice. Tippmann, who played center and guard during camp, held up well against New England despite short notice.
"It was good. I was ready," Tippmann said. "There's definitely a lot of plays that I wish I could have back, but we went out there and battled and as a team I know we just got to keep getting better and keep moving forward."
Vera-Tucker added: "I think [Tippmann] did a good job, especially in his first start. We were communicating and I think he played really well."
Becton started at left tackle for the first time 2021 when he sustained a season-ending knee injury against the Carolina Panthers in Week 1. The 2020 first-round pick missed all of last season with a different knee injury, won the starting right tackle job in camp and started the first two weeks of the 2023 season opposite Brown.
"It was great to be back at the left side, I had fun," Becton said. "I am just glad to be out there. I don't care what side I am on."
Vera-Tucker started at right guard the first two weeks before shifting to right tackle on Sunday. Last season, Vera-Tucker, the Jets' 2021 first-round pick, played Weeks 1-3 at right guard before he moved to left tackle in Week 4 and then right tackle in Weeks 5-7 before he tore his triceps at Denver.
"I was out there [at RT] all week during practice and I feel like I played play well," Vera-Tucker said. "I feel more comfortable there than last year. As long as I get a week of practice there, I'm cool out there. It took me a couple of snaps to get the feel for it again, but I feel good."
See the best game action photos during the Week 3 matchup against the Patriots.