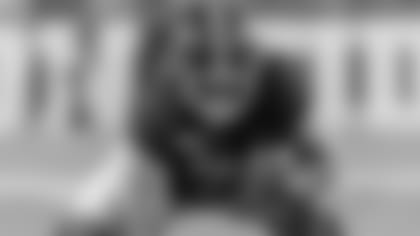 The Jets need to address several positions this offseason, and one of them is tackle, since two of their three tackle starters last season, LT Kelvin Beachum and RT Brandon Shell, can become unrestricted free agents next month.
Lo and behold, the tackle box is loaded in the 2020 NFL Draft, with four players consistently being listed as top-half-of-the-first-round selections.
Might the Jets be interested in one of the four? Which one might be the best fit for the Green & White? Which ones might still be on the board when they pull the lever with their 11th overall pick in Las Vegas on the night of April 23?
Here are some capsule looks at the big four tackles available in the upcoming draft, in a rough order based on seven top mock drafts and including comments from Dane Brugler, long-time draft analyst now working at The Athletic:
Jedrick Wills, Alabama (6'5", 320)
Wills was the top pass-blocking right tackle for QB Tua Tagovailoa and the Crimson Tide for the past two years. Is the well-coifed Wills a blindside protector at the NFL level? Many scouts seem to think so, and draft experts have been selecting him as the No. 1 tackle to come off the board, on average around No. 7 overall compared to Andrew Thomas, who's coming off around ninth overall.
He was a consensus All-America second-teamer and All-SEC first-teamer after his junior season, and he was a big contributor to three seasons of Alabama football, when the Tide rolled to a 38-4 record, two national title game berths and the national title after the 2017 season.
Quote-Unquote: Is Wills the best tackle available in this combine and draft? "I believe so," he said. "Confidence is key. ... I want to put out freakish numbers for O-linemen at every single station."
Brugler's View: "His strength is definitely in the run game. He's a mauler. He's ascending in pass protection. It's not a weakness of game at all. He's a fired-up competitor. There are times on tape where he looks like a man amongst boys. He can drive defenders off the ball. He's never passing on an opportunity to bury a defender. In pass protection, that's where he has a little room to get better with his technique, his mechanics. ... This is a player where you see the explosive power, the aggressive mentality and the budding confidence that I think will translate very well to the next level."
Green Flags/Red Flags: In his two seasons as a starter, he allowed just one sack in 28 games. ... Missed only 7 assignments out of 771 offensive snaps for a 99.0% success rate. ... Headed to 'Bama as the top player in the state of Kentucky by all major recruiting outlets. ... Can have problems at times with opposing DL spin moves.
Andrew Thomas, Georgia (6'5", 320)
Thomas garnered many individual honors after his third season with the Bulldogs: Walter Camp All-America first team, All-SEC first team, semifinalist for the Outland Trophy, winner of the SEC's Jacobs Blocking Trophy, co-winner of UGa's Vince Dooley Offensive MVP award.
He started the most games overall and the most at left tackle among the Big Four, 41 over three seasons, with the first 15 at RT and the last 26 at LT. He missed only two games in his college career, one due to injury in 2018 and last year's Sugar Bowl, which he skipped to preserve his health and get a jump on training for the combine, his pro day and the draft.
Quote-Unquote: "I want to thank God for the opportunities He has granted me. I also want to thank the University of Georgia for an incredible three years. My time in Athens has shaped me into the man I am today, and it was a privilege to play between the hedges on Saturdays. ... Since I was a kid, I've dreamed of playing in the National Football League."—Thomas
Brugler's View: "For offensive linemen, you're looking for soft feet and loud hands, and that's what Thomas offers. He holds his own in pass protection, he rolls his hips, he introduced a firm punch at contact. He can overwhelm in the run game. He really gets after it. He does a great job at the second level. He can forklift linebackers out of the way and his coaches call him the leader of that offensive line. They say he doesn't talk a lot, but when he does, everybody sits up and listens. He's a mature young man who should adapt fairly well to the NFL game."
Green Flags/Red Flags: Needs to work on balance and technique. ... Tends to overset, which throws his timing off, and that leads to ending up on the ground too often. ... Some teams might consider moving him to guard.
Tristan Wirfs, Iowa (6'5, 322)
Iowa born and bred, Wirfs is about to branch out in the draft. Teams will love his athleticism and versatility, captured in two areas. Although he played predominantly at RT for the Hawkeyes (29 of 33 career starts), scouts feel he can line up on either side in the NFL. And although he showed great strength and technique in pass protection, scouts feel he will be adept in both areas in the pros.
He was a consensus All-American and was the first Iowa lineman to win the Big Ten's Rimington-Pace Offensive Lineman of the Year since Brandon Scherff, now the Redskins' three-time Pro Bowler, in 2014. And he turned 21 in January.
Quote-Unquote: "My goals are as realistic as I can make them. The harder I work, the more realistic they become."
Brugler's View: "He's so quick to gain position and stay square to rushers. He'll use his hands, he can absorb rushers, redirect that power so he can shield the pocket. ... Scouts love his balance, his sound technique and his versatility. We've seen him at both left and right tackle and knowing that he can play at either spot is something teams will enjoy. He's currently my No. 2 offensive tackle behind Jedrick Wills and I think he has a chance to be a top-10, top-12 talent."
Green Flags/Red Flags: Wirfs topped Scherff's "unbreakable" mark of hang-cleaning 443 pounds 3 times by hang-cleaning 450 pounds 4 times last spring. ... Was three-sport monster at Mount Vernon HS, winning Iowa state wrestling title as senior, state shot put title his last two years and state discus crown his last three years. His best shot: 66'3¼". ... Tends to overset in pass protection, putting a lot of weight on his outside foot. ... Has said he needs to "get a little meaner."
Mekhi Becton, Louisville (6'7", 369)
Becton is not just a big man. He's a big man with athleticism. That's what former Louisville coach Bobby Petrino saw when Becton was doing reverse dunks on the basketball court as a high school senior. A college scholarship offer came soon after. Said Cardinals RB Javian Hawkins: "Mekhi is different. Up front, it's always a bunch of skill players coming in and out, but it's only like here and there you get a freak athlete. That's just the way he is."
After last season, Becton, a true junior, was named All-America second team by Sports Illustrated, All-ACC first team and was awarded the ACC's Jacobs Blocking Trophy.
Quote-Unquote: "I'm really proud of Mekhi and extremely happy for him because of all the hard work he put into this season. Mekhi had a tremendous year and deserves this outstanding recognition as one of the top blockers in this prestigious conference. He has been a leader for our offensive line and our offense as a whole, and to be recognized for his accomplishments by members of this league is a great honor for Mekhi. —Louisville coach Scott Satterfield on Becton's Jacobs award
Brugler's View: "He's a people mover in the run game. He drives defenders from their spot, collapses the line on down blocks and he stays after it. He finishes his man to the ground — he really relishes that part of the game. He's a gifted blocker with outstanding movement skills. He has power. He projects as a high-upside player with experience at both left and right tackle. Even though he still needs some work, I think we're going to see him start as a rookie in the NFL and he's going to be a longtime pro."—Dane Brugler
Green Flags/Red Flags: Played in 35 games with 33 starts at Louisville, including his last 21 starts at LT. ... Has been called a ballcarrier's and quarterback's best dream. On at least one play, he was a D-lineman's and linebacker's worst nightmare. That's when he carried for a 1-yard touchdown early in the fourth quarter vs. Indiana State in 2018. ... Possesses a "seven-foot wingspan." ... Can get over-aggressive and rely too much on his size at times.