Eight months, 37 weeks, or 255 days. No matter which unit of time you want to use, the fact is it's been a while since third-round rookie cornerback Dex McDougle last played in a football game.
McDougle injured his right shoulder during Maryland's matchup against Connecticut and required season-ending surgery. That didn't stop the Jets from taking a chance on him with the 80th overall pick in the draft, but it has kept McDougle in a red jersey and prevented him from fully participating in some of the on-field drills at OTAs that began this week.
"It's 100 percent healed, but I'm just working on trying to get the strength back right now," McDougle said.
That process could take some time, but it could be a blessing in disguise for the rookie as he focuses his efforts on the biggest mental hurdle of anyone's initiation into the NFL, learning the playbook.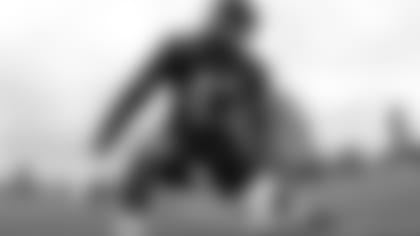 "There's a lot of similarities to my college system," he said. "Here we just have a lot more wrinkles and a lot more different things you can do within the defense, but as far as a base, there's a lot of things that we did at Maryland that are *real *similar to what we're doing here, so it's been a very smooth transition coming to the New York Jets."
As an All-ACC Academic football selection, McDougle will likely find the studying coming easier than the sitting as he gets his shoulder back to full form.
McDougle's eagerness to jump on in while the trainers insist on holding him back is not unlike the situation that CB Dee Milliner went through last season. Milliner underwent shoulder surgery in March of 2013, shortly before being drafted by the Jets in the first round. As such, McDougle's been picking Milliner's brain more than any other veteran.
Dee's words of advice for Dex?
"He told me to just be patient," McDougle said. "They're taking the necessary steps to get me back on the field. It might be hard because you want to be out there, but the best thing I can do is just learn the playbook, get my mental reps and just know what I'm supposed to do so when it is time to go out there, I'll know exactly what I'm doing."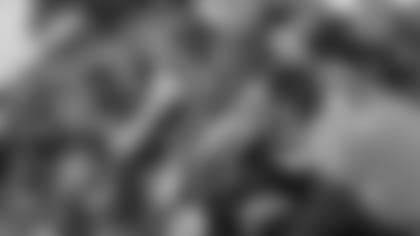 It will be another long while — two-plus months, 10 weeks, or 66 days to be precise — until McDougle's next game action, when we host the Indianapolis Colts in the preseason opener. The time between now and then will be filled with countless hours of work in the weightroom, on the practice field, in meetings, and with the playbook in hand, but there's no place that he would rather be.
"A lot of my friends back home ask me, 'How does it feel to be on a team with Chris Johnson, Eric Decker, guys like that?' I told them that when you're training and working out for the combine, you're with all these guys, so it's not the 'wow' factor or anything.
"But I ain't going to lie," he continued as a smile came to his face. "When I sat down for lunch and was talking to Michael Vick, that was crazy. I used to use him in Madden, and now I'm sitting with him. He's a guy that when you're a younger kid you just look at like, dang, he's amazing, he's a hell of a football player, and now I'm in the same locker room as him and he's a teammate. That was one situation where I was like 'I'm in the NFL right now. I'm here.' "