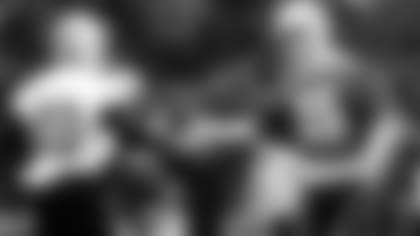 Sam Darnold is an inquisitive sort and Josh McCown is more than willing to share information. The 20-year-old Darnold, who has a full head of reddish-blonde locks, recently asked the 38-year-old McCown, who sports a hipster blonde hairdo that you are more apt to see in Williamsburg, Brooklyn than Florham Park, NJ, recently asked the veteran gunslinger for a secret that has yet to be revealed.
"Honestly," McCown answered when asked by a reporter about Darnold's most impressive question to date, "the best one so far has been: what type of hair gel do I use?"
That answer might actually prove elusive for Darnold, but McCown will be an open book for the No. 3 overall selection in April's draft. While Darnold has a couple of OTAs under his belt, McCown is entering his 16th NFL season with his 10th team.
"He's been good, like there has been so many like he didn't hesitate," said McCown of the USC product. "He's like, 'Hey, tell me about the stuff in the huddle, like how much do you say and how much do you not say.' We talked about study habits, what are the things you do study-wise? How did you learn how to spit plays out in the huddle?"
McCown, the only quarterback remaining from the 2002 draft, recalled leaving Sam Houston State and joining the Arizona Cardinals for his first pro experiences.
"I was behind Jake Plummer. And, just watching Jake do everything so smoothly, and you want that so bad early on. You are like, 'Man, I want to look like that,'" he said after the Jets' first OTA. "And, you just realize that it takes a process. It takes time to get to that point and your head is swimming, people are going everywhere, but you want to find throws. You make that one throw or those two throws and Sam made some today where you say okay, you build confidence off those things and I think that is critical. And we saw that with Sam today, and that is something he can build on for sure."
McCown and Darnold have been joined on the practice field this spring by Teddy Bridgewater. The former first-round pick, who is working his way back from a serious knee injury, looked sharp in his practice debut with the Green & White and wasn't limited at all while moving around in the pocket. A cool customer, the unflappable Bridgewater was a 65% passer in Minnesota and he helped lead the Vikings to an NFC North title in 2015.
"It's great and his ability to just talk ball has been awesome and I am really excited about Teddy," McCown said. "And, most importantly, is what Teddy brings to our locker room as a leader is great because he has been the guy before, so he understands what it takes. He has been great with the guys. Anytime you can add a leader like that to your team, that adds value to the group and we most certainly got that from Teddy."
McCown, who was voted the Jets MVP last season, would like to be under center for the Green & White when they open the season in Detroit on Sept. 10. He wouldn't mind having that hair messed up a few more times due to a helmet and not a baseball cap. But he is the ultimate teammate who continues to embrace everything that comes his way.
"Just live one day at a time. Tomorrow is not promised and all of those things, so maximize that day, go get it and have fun and compete," he said. "One day, everything comes to an end. That time will come, so for me the best thing I can do for this football team is to go play good football.
"On the way, in meetings and all of those things, help Sam and help Teddy as much as I can," he continued. "Pass on my knowledge, and when it is time for those guys to play if the coaches make those decisions, I will have their back 100 percent because ultimately it is what is best for the Jets. It is what Todd and those guys decide, what is best for our team moving forward and how we can win football games. That is all I care about, what is best for the Jets and what we can do. Obviously as a competitor — I want to be the one that is best for the Jets. So, my mindset is to wake up every day and put my best foot forward, so I can be that option and we will see how it goes."