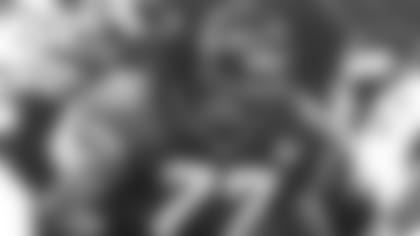 Dozens of football players -- from Joe Namath to Jim Brown to Alex Karras -- have made the move from the gridiron to the sound stage, be it the silver screen or the small screen. Add to that list the Jets' former offensive lineman Matt Willig whose post-NFL career as an actor has landed him gigs in more than 50 films and TV shows -- and now one of his most prominent roles playing the professional wrestler Andre the Giant in the NBC sitcom "Young Rock," which is based on the life Dwayne Johnson.
Willig played three seasons with the Green & White (1993-95) after going undrafted out of USC, where he had played as a defensive lineman on the squad that won the Rose Bowl in 1989. Willig played a total of 14 years in the NFL with six teams.
"My story with the Jets is that I came in as a defensive lineman, I was playing in the days of [Jeff] Lageman, [Dennis] Byrd and [Marvin] Washington," Willig told Eric Allen and Ethan Greenberg of nyjets.com on The Official Jets Podcast. "I knew I was too slow to play in the NFL. But I also knew that if I worked harder I would make it. In training camp one day I got pulled aside by a coach who said they wanted to work with me as an offensive lineman. From that minute, it was sort of an audition. [Head Coach Bruce] Coslet calls me in, tells me to go home to LA and gather my stuff, and said they were going to put me on the practice squad as an offensive lineman and see how it goes. Part of me was not overly surprised, I had my head in clouds and thought that if I worked hard something would happen."
And something did. The 6-8, 315 mountain of a man carved out a career that could be characterized as journeyman, but that nevertheless prepared him for the life of an actor -- study (like learning new systems in football) and auditions (like the need to prove yourself each day on the practice field).
"It has to be in your DNA, you have to have that itch to be on camera, to put yourself out there," Willig said. "I had that sort of personality, but I needed help along the way. Football gave me some of that just with discipline, being a part of a team, my role -- sometimes starter sometimes backup at several positions -- and I knew how to be a pro. That became my sort of itch. I knew I would be a character actor. Having the discipline to study, know your lines, fitting yourself in as part of a series or a movie. Things I'd been doing my entire life. Also rejection. For me to have played for six teams in 14 years, there's some rejection going on there. I moved from [a job] with one of highest rejection rates to a job with the highest rejection rate -- entertainment. I just tried to keep my head down and learn as much as possible."
Johnson, like Willig, played football, in the case of The Rock, in college at Miami. Johnson went on to be a professional wrestler, slowly working his way to marquee stardom in films. Early in his acting career, Willig and Johnson worked out at the same gym in Los Angeles, gradually becoming friends.
"We befriended each other in the gym, he felt comfortable with me and we worked out a few times," Willig said. "I pulled him aside and sought some advice. He was more than cool, down to earth, open to helping me. From then on I wanted to be in a movie with him."
Landing an audition for "Young Rock," Willig had 24 hours to prepare, even having to learn several phrases in French and showing off an impressive accent. He passed with flying colors and landed the gig, even though his affinity for professional wrestling was minimal.
"I wasn't a wrestling fan," he said. "I'm one of six boys, just to even get to watch what I wanted on TV was something we clawed and scratched for.
"Being in 'Young Rock' and to have an iconic role as Andre the Giant has been great for me."