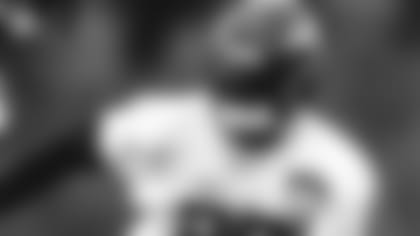 It looks like the dynamic duo of Marcus Maye and Jamal Adams will be returning to the field in full force sooner than later. After undergoing shoulder surgery last December which ended his second season, Maye is back to what he describes as full health and is ready to get the ball rolling. But before he lets loose, head coach Adam Gase is playing it on the safe side.
"He's anxious to get out there and do some stuff," Gase said of the third-year safety. "That's why we basically said, 'We'll put you in the red, but we cannot have you falling on the ground.' So that's why he's a little further back probably then what he would normally be at, a little less aggressive going to the ball because we don't want him having contact with anybody."
Over the past few weeks during OTAs and mandatory minicamp, the Florida product has engaged in individual work and 7-on-7 drills while sporting the red, non-contact pinnie. Despite the limited participation, both Gase and Maye expect him to be back in team action once training camp begins in late July.
"[I'm] taking it slow. It's tough because obviously I hate watching," Maye said. "Just being out there and getting those reps is definitely a big thing for me, but I'm doing everything that I can do and just learning from there."
Last season, Maye was limited to just six games while being slowed by foot, thumb, and shoulder injuries. Adams, who thrived despite not playing alongside his trusted partner, is looking forward to having Maye in the backfield once again.
"It's important obviously, he's like my rib," Adams said of Maye's return. "Any time we're back there together, we're flying around and we're having fun. He knows me and I know him. We feed off each other, so it's always good to have him back there with me."
Maye, who is learning a new defense under coordinator Gregg Williams, is enjoying the new scheme and the flexibility it provides.
"They've been doing a great job of moving us around. I'm in the box more than I was last year, and just different stuff," Maye said. "It helps out everybody else and makes it [the defense] a lot harder to read."
The final phase of Jets OTAs will wrap up next week before the players head for a multi-week break. After that, the next time Maye is on the field, he'll be in full participation. But until then, he has things under control.
"It's not my first time going through it, so I know how to handle it and I know what to expect," he said. "I know how to adjust to everything and learn from the sideline, and also watch a ton of film."