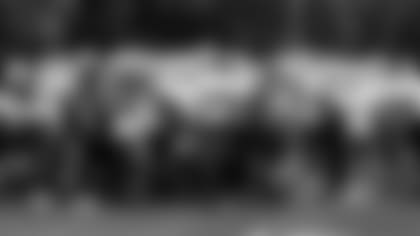 After three phases of workouts and 10 OTAs, the Jets will wrap up their 2018 offseason with a three-day mandatory minicamp beginning Tuesday.
While the team will practice each of the next three days, the Green & White actually had physicals Monday and the players will arrive Tuesday for an early morning team meeting.
Rookie quarterback Sam Darnold, who received some first-team reps during the three OTA sessions the media attended, is in the middle of the first chapter of his professional coursework.
"I'm spending every single day in the film room or on the practice field," said the USC product recently. "In regard to that, being able to spend time watching football, playing football, it's awesome to be able to come in here every day and do it for a living. It's pretty sweet every single day, coming in here and just coming to work."
Darnold is sharing the classroom with two wise veterans in Josh McCown and Teddy Bridgewater. By all accounts, all three have had strong springs and the 21-year-old Darnold has fit right in with his professional approach and ability to retain information.
"He is just more comfortable with the playbook," said head coach Todd Bowles. "Obviously, seeing things a couple times will make you more comfortable. Just hard work and everything we thought coming in — (he's) going to work every day, wants to be good (and) understands the mistakes he makes. He works at them night and day, watches film, asks questions. And at this time of the year, that is what he is supposed to be doing and that's what he is doing."
Throughout his four seasons as head coach, Bowles has customarily used the spring and parts of training camp to mix and match with his lineup combinations. When asked about the competition at cornerback opposite big-ticket free agent Trumaine Johnson, Bowles talked about his outlook from a 40,000-foot view.
"I think all 11 spots on each side of the ball are open. There are people who will start first team," he said. "At the end of preseason, we'll see who lines up first team. It doesn't necessarily mean that we have starters right now."
The Best Images from the Three Weeks of OTA Practices at 1 Jets Drive